Catalog parts can be published and updated independently using TraceParts' Smart-Publishing tool
Saint-Romain, France, June 28, 2021 - Since 2018, ISC Plastic Parts, a supplier of standard plastic parts for industry, has relied on TraceParts - one of the leading CAD platforms for engineering, industrial equipment and machine design - to publish its CAD models.

ISC Plastic Parts has chosen to publish the CAD models of its components via TraceParts' Smart-Publishing solution, which allows the firm to publish the 3D models of its products independently, along with the corresponding datasheets, in order to benefit from the visibility offered by the TraceParts.com web platform.
ISC offers a broad range of standard plastic parts: rivets, washers, screws, nuts, levers, handles, feet, stoppers, end caps, etc. for protection and fastening, in a wide variety of colors, sizes and materials.
Some of these injection-molded products are available in recycled, recyclable, biodegradable or organic-based plastic, and ISC Plastic Parts' Research and Development department is working on acquiring new patents. A number of ISC products have won awards in design competitions, and ISC's capacity for innovation has been recognized by the "Innovative SME" seal.
There are many reasons why ISC Plastic Parts opted for the Smart-Publishing solution, one of the main ones being to find a simple and inexpensive way of publishing whole series of CAD models quickly.
"We want to be as reactive as possible for our customers, so as to respond quickly to requests for technical content. That's why we value our independence as to when and how we update our catalog,"
explains Gonzalez Pol, Technical Department Manager at ISC Plastic Parts.
ISC Plastic Parts also appreciated the exposure provided by the TraceParts.com platform for achieving its visibility objective and thus gaining more market share at the international level. 28 million engineers and designers from around the world are now registered on the TraceParts.com platform.
About TraceParts
TraceParts is one of the world's leading CAD-content platforms for Engineering, Industrial Equipment and Machine Design, totaling 4.3 million registered members from 1.2 million companies actively sourcing product information and technical data from over 195 different countries.
As part of the Trace Group founded in 1990, TraceParts brings highly targeted marketing exposure to more than 800 customers of all sizes and from all industries, via powerful cloud-based API and SaaS applications such as CAD part libraries, product catalogs and configurators.
TraceParts' comprehensive Digital Marketing Services help part manufacturers and distributors, 3D printing & rapid-prototyping suppliers, CAD/CAM/CAE/ECAD software and computer hardware vendors promote their products and services and generate highly qualified sales leads.
Available free-of-charge to millions of Engineers & Designers worldwide, the TraceParts CAD-content platform provides access to over 1,100 supplier-certified product catalogs and billions of 2D drawings & 3D CAD models and product datasheets that perfectly match the digitalization needs of Design, Purchasing, Manufacturing and Maintenance processes & operations, in virtually any industrial sector.
Featured Product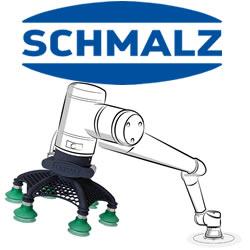 In order to interact with their environment and perform the tasks, lightweight robots, like all industrial robots, depend on tools - and in many cases these are vacuum grippers. These form the interface to the workpiece and are therefore a decisive part of the overall system. With their help, the robots can pick up, move, position, process, sort, stack and deposit a wide variety of goods and components. Vacuum gripping systems allow particularly gentle handling of workpieces, a compact and space-saving system design and gripping from above. Precisely because the object does not have to be gripped, the vacuum suction cupenables gapless positioning next to each other.