Cloud technologies have transformed and revolutionized the way we live and work, and now, cloud technology has made its way to robotics. The term "cloud" refers to software or services on a global network, functioning offline and allowing individuals to access data on any device virtually.
AI and Machines are taking over the world. OK, not entirely. But they are becoming widespread in several industries, including healthcare, manufacturing, automotive, education, and defense. The fusion of engineering and science is resulting in some truly innovative products — things that are doing what humans have typically done, only better. From teaching, assembling automobiles, welding to performing surgery, the integration of robotics is changing the way we live and perform daily tasks.

Robotics is already driving the flexibility and competitiveness in small- and large-scale manufacturing industries. Without it, many of the world's prominent and successful manufacturing industries would not be able to operate and compete with others.
And then comes the cloud, an indistinct something that by far most of us have heard about, but not as many genuinely are aware of it. With an integrated cloud platform and computing services, organizations can succeed in the technology arms race by building and testing their applications faster than ever. Robotics has allowed companies in the market to roll out products immediately, thereby keeping up with the ever-changing customer needs. By testing new applications at a faster rate, organizations can eliminate external costs and focus on their investments and resources on new products.
The Power of Cloud Robotics:
Cloud technologies have transformed and revolutionized the way we live and work, and now, cloud technology has made its way to robotics. The term "cloud" refers to software or services on a global network, functioning offline and allowing individuals to access data on any device virtually. Servers store and manage data, run software and applications properly, and deliver content. Nowadays, these applications are becoming increasingly prevalent in the robotic industries space, since cloud robotics is making possible the use of cloud storage, cloud computing, and similar technologies that focus on a centralized infrastructure.
Cloud robotics is already making its way to several industrial spaces, including logistics, agriculture, healthcare, construction, and mining, and is allowing supervised autonomy and machine learning (ML). The technology results in higher levels of human-machine learning and collaboration and is contributing to the digitalization of companies.
As per Straits Research's latest report on the robotics market, the overall market accounted for over USD 2.20 billion in terms of value in 2017 and is projected to grow at a CAGR of 28.7% during the forecast period, 2019-2026.
The top seven robotics companies globally are briefly discussed below, with an emphasis on their recent developments.
1. NVIDIA, U.S. based Company:
Nvidia Corporation generally referred to as Nvidia, is a U.S.-based technology company that specializes in designing and selling interactive graphics on PCs, mobile devices, laptops, notebooks, workstations, and more. The company's ISSAC Software Development Kit (SDK) is a platform that provides a set of tools, tutorials, libraries, and GPU-enabled algorithms to accelerate the development of robotics applications.
In 2018, the company introduced its new chip known as the Jetson AGX Xavier Module that is the go-to brain for next-generation robots. For the fiscal year 2019, Nvidia's revenue accounted for USD 11.72 billion.
2. Microsoft, USA Company
Microsoft is a U.S.-based multinational technology company that develops, manufactures, licenses, supports, and sells software, electronics, PCs, and related services. Valued over USD 1 trillion and reporting over USD 125 billion in revenues in FY2019, the company's portfolio includes a wide range of products, including the ROS 1 and ROS 2 support for Microsoft Windows 10.
In May 2019, Microsoft launched a new platform for building autonomous robots, which has partially been possible because the company acquired AI startup Bonsai. The platform will help developers train models to power autonomous physical systems.
3. iRobot, American Company:
iRobot Corporation is an American advanced technology company that specializes in designing and building robots. The company's robotics suite of products includes the Roomba Vacuuming Robot from the home robot cleaning category. At present, more than 20 million robots have been sold worldwide. Other products in the line-up include the Braava family of mopping robots, advanced concepts in cleaning, mapping, and navigation, and feature proprietary technologies.
In 2018, the company went into a joint venture with Google to integrate robotic and smart home technologies to advance the next-generation smart home. Through this collaboration, the companies aim at building robots and technologies to enable the smart home.
4. Cruise Automation, USA:
Cruise Automation, generally referred to as Cruise, is a U.S.-based self-driving car company and a subsidiary of the American multinational conglomerate General Electric. The company raised a staggering USD 1.65 billion thanks to Honda and the Softbank Vision Fund. In January 2020, Cruise unveiled the new line of driverless electric vehicles called The Cruise Origin to supplement its self-driving and robotics businesses. In January 2019, the company partnered with DoorDash to test a food delivery service using autonomous cars, to explore different revenue streams around self-driving vehicles.
5. Boston Dynamics, USA:
Boston Dynamics is an American engineering and robotics design company, and a wholly-owned subsidiary of the Japanese conglomerate SoftBank Group. Last month, the company announced its collaboration with material handling and transportation company OTTO Motors to show how a heterogeneous robot can be faster and more efficient — as a part of "the future of warehouse automation." In November 2019, Boston Dynamics announced a collaboration with several companies that would allow its Soft Robot platform to help automate tasks in the construction industry.
6. Amazon, USA:
Amazon.com, Inc. is a U.S.-based multinational technology company that specializes in e-commerce, cloud computing, AI, and digital streaming. It is considered one of the Big Four tech companies, along with Microsoft, Google, and Apple. Amazon's AWS RoboMaker cloud robotics platform helps developers and engineers build robots, simulate and test them in a variety of environments, as well as add smart functions. The platform runs on top of the Robot Operating System (ROS) and extends the framework to AWS services for analytics, ML, and monitoring.
At present, the company is working on its home robot called the Vesta — as a major part of an effort to expand its footprint in the home robotics market. Amazon is also planning to integrate AI systems within home robots to improve their functionality by asking questions from users.
7. Universal Robots:
Universal Robots is one of the world's leading manufacturers of smaller flexible industrial collaborative robot arms based in Denmark. In 2018, the company announced its collaboration with Sepro Group, a leader in robots and industrial automation for the plastic industry. The partnership helped the company to expand its reach in the plastic industry by providing robotics services. The company's revenue for 2019 was USD 248 million.
Cloud Robotics Market Demand And Future Trends, Report 2020
- The Rising Adoption Of Robotics To Facilitate autonomous Delivery
- 2020-2026 at of CAGR A 28.7%
- World's Top Cloud Robotics Companies In The Market
- North America Is Expected To Flourish As Its Home
- Fostering The Demand For Cloud Robotics In The Transportation Sector.
https://straitsresearch.com/report/cloud-robotics-market/request-sample
Featured Product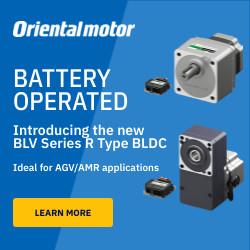 The BLV Series R Type brushless DC motor (BLDC motor) speed control system offers the design of motor and driver significantly reduced in size and weight, yet high-power, and contributes to the battery driven automation. The BLV Series R Type is compatible with the two interfaces of Modbus (RTU) and CANopen communication.