The series of six executive webinars will feature a range of technologies leading up to Automate, North America's premier automation trade show
ANN ARBOR, Michigan - July 21, 2021. The Association for Advancing Automation (A3) is hosting the new Automate Preview Series, a program of six executive webinars starting September 14. The series will outline some of the technologies and applications that will take center stage at Automate in Detroit, June 6-9, 2022.

Each Automate Preview webinar will feature a roundtable discussion with industry leaders, followed by presentations by innovative companies on the latest use cases, new technologies or emerging automation trends.
"We are seeing a growing awareness from companies recognizing a need to automate their processes, whether that means getting started or expanding their automation operations," said Jeff Burnstein, President of A3. "We know companies need practical information on automation solutions today. That's why we're launching this Automate Preview Series to educate them on leading-edge technology and innovations that will help them compete globally. Plus, they'll be better prepared to make buying decisions when they visit Automate next year."
Free registration is open now for all six webinars. For information about sponsoring an Automate Preview Series webinar, contact Jim Hamilton at (734) 994-6088.
Don't Wait to Automate: Get Started With A3's Executive Webinar Series
• Advances in Robot Picking, Grasping & Manipulation
• September 14, 2021; 10 a.m. - 12:30 p.m. ET
o Human-like picking and grasping is often viewed as the Holy Grail of robotic automation. But innovations in gripping, software and robotics are leading to rapidly improving capabilities, while increasing the number of possible applications. Hear from industry experts on the latest trends, solutions and technology.
• Putting Motion Control to Work in Your Production
• November 2, 2021; 10 a.m. - 12:30 p.m. ET
o Industry experts will help you evaluate, implement and optimize motion control technologies in your operations.
• Collaboration and Robotics: The Latest Solutions
• November 9, 2021; 10 a.m. - 12:30 p.m. ET
o Join industry leaders for a discussion of the benefits of collaborative robotics applications, with insights and advice on implementing this fast-growing segment of automation.
• Industrial Cybersecurity: Is Your Facility Protected?
• February 15, 2022; 10 a.m. - 12:30 p.m. ET
o Hackers are now targeting industrial and infrastructure. How do we keep our facilities protected amid these growing dangers and opportunities?
• Smart Automation: How AI is Changing Industry Today
• March 15, 2022; 10 a.m. - 12:30 p.m. ET
o Learn from industry leaders about the opportunities and challenges in deploying AI across your operations.
• Getting Started with Automation
• May 17, 2022; 10 a.m. - 12:30 p.m. ET
o Get key advice from industry leaders on what should be considered and what questions to ask as you plan automation projects.
About Association for Advancing Automation (A3)
The Association for Advancing Automation (A3) is the global advocate for the benefits of automating. Members of A3 represent over 1,000 automation manufacturers, component suppliers, system integrators, end users, research groups and consulting firms worldwide that drive automation forward.
A3 hosts a number of industry-leading events, including the virtual International Robot Safety Conference (September 20-22, 2021); the Autonomous Mobile Robot & Logistics Conference (October 12-14, 2021, in Memphis); A3 Business Forum (January 31-February 2, 2022, in Orlando, FL), the Automate Show & Conference (June 6-9, 2022, in Detroit, MI), and The Vision Show (October 11-13, 2022).
Featured Product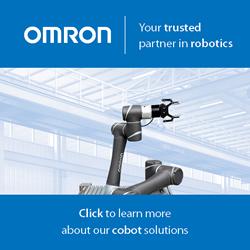 Humans and robots can now share tasks - and this new partnership is on the verge of revolutionizing the production line. Today's drivers like data-driven services, decreasing product lifetimes and the need for product differentiation are putting flexibility paramount, and no technology is better suited to meet these needs than the Omron TM Series Collaborative Robot. With force feedback, collision detection technology and an intuitive, hand-guided teaching mechanism, the TM Series cobot is designed to work in immediate proximity to a human worker and is easier than ever to train on new tasks.