Learning never stops. Especially in drive technology, it is critical to learn continuously in order to identify innovate opportunities early on and apply them to the development of applications.
FAULHABER started an exciting series of webinars for this purpose. Each webinar examines a specific topic and is professionally moderated by a distinguished expert. Participants have the opportunity to level with our experts during discussions, where individual questions can also be asked. Modern, mobile, multi-medial: Our webinars are the tool of the hour when it comes to expanding your knowledge - especially also in the home office. Participation is completely free of charge and requires only a one-time registration.

The following webinar topics have already been covered:
Motion Controller & Speed Controller
The right technology for your drive solution
Designing drives with the FAULHABER Drive Selection Tool
Noise development in drive systems
You can watch them again here: www.gotostage.com/channel/faulhaber-webinars
Future planned topics are
Best practices when using DC-motors
Drive systems for space applications
Motion controller MC 3001 B/P:
Commissioning and possible uses
FAULHABER Speed Controller:
Optimal use and customer-specific adaptation
www.faulhaber.com/it/news-events/events/webinars/
Company box: The drive experts from Schönaich
FAULHABER is specialized in the development, production and deployment of high-precision miniaturized and miniature drive systems, servo components and drive electronics with up to 250 watts of output power. This includes putting into effect customer-specific packaged solutions as well as an extensive range of standard products, such as Brushless Motors, DC-Micromotors, Encoders and Motion Controllers. The FAULHABER trademark is recognised worldwide as a symbol of high quality and reliability in complex and demanding application areas, such as medical technology, factory automation, precision optics, telecommunications, aviation and aerospace, and robotics. From the powerful DC-motor with a continuous torque of 224 mNm to the filigree micro drive with an outer diameter of 1.9 mm, the FAULHABER standard range can be combined in more than 25 million different ways to create the optimum drive system for a particular application. At the same time, this technological construction kit is the basis for modifications which allow to configure special versions to meet the specific needs of customers.
www.faulhaber.com
Featured Product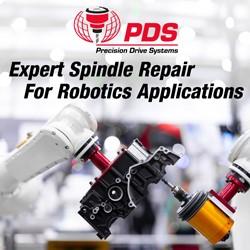 Precision components machined by CNC robot machining systems require compact, lightweight, and high-speed motorized spindles capable of delivering higher efficiency, performance, and reliability than those used in many other industries. That's why manufacturers of milling, cutting, trimming, grinding, polishing, and deburring trust Precision Drive Systems (PDS) to provide accurate and dependable spindle repair to perform to the most exacting standards.