By handling every aspect of financing and deployment, Formic empowers manufacturers to save money from day one and boost production
CHICAGO, IL—August 31, 2021—Robotics-as-a-service company Formic Technologies launched today with a simple value proposition: hire fully customized robots from top vendors at a low hourly rate and no upfront cost. To help small and medium-size manufacturers benefit from automation, Formic handles every aspect of a financing and deployment—from scoping, engineering, purchasing, implementation, and maintenance. The company also guarantees uptime, with customers paying nothing for system downtime.

Traditionally, manufacturers buy robots, which is a lengthy, complex, inflexible, and expensive process. These barriers to entry are so high for smaller manufacturers that they often refrain from deploying automation altogether.
"We started Formic because we saw all that automation can do, and we wanted to provide a way for any manufacturer to easily adopt automation in a simple, risk-free, and on-demand way," said Saman Farid, CEO and co-founder. "With Formic's fundamentally different approach to financing and deployment, manufacturers can do more with automation without high costs or a lengthy and complicated purchasing and deployment process."
Formic's model was designed to systematically remove every barrier to entry, allowing manufacturers to deploy automation efficiently and cost effectively. Testing shows that Formic's deployments are 50% faster than traditional approaches and save customers 42% on their operating expenses from the first day.
According to Farid, an engineer and robotics start-up investor who founded Formic with former Universal Robots salesperson Misa Ikhechi, a unique combination of products and services make Formic's model possible:
• Systematized deployment processes
• In-house equipment financing
• Formic-designed solutions featuring products from leading robotic vendors such as Universal Robots, Fanuc and ABB
"We came to the conclusion that what manufacturers needed was not any specific new technology, but a better way to access the technology that would best meet their needs," Farid said. "Formic offers that access at a fraction of the cost or energy, as Formic takes on the heavy lifting."
About Formic
Founded in September of 2020, Formic is a one-stop-shop for automation. The Chicago-based "Robotics-as-a-Service" company delivers customized robots at a low hourly rate with no money upfront and guaranteed uptime. Its full service includes everything from planning, deployment, to maintenance, all in an easy, no-risk fashion. For more information, visit http://www.formic.co
Featured Product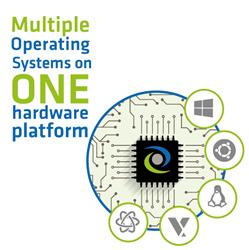 The RTS Hypervisor enables work-load consolidation of both real-time and non-real-time operating systems on a single x86 based platform. Unlike traditional virtualization, we partition and allocate the hardware for each work-load and provide a "privileged" mode for real-time operating systems that guarantee zero impact to determinism while adding zero jitter. This is instrumental for work-loads such as robotic controllers managing motion control where minimum jitter is required. And, our hypervisor is designed for easy setup and configuration for any work-load consolidation scenario. This equates to deterministic real-time applications taking advantage of all the benefits of virtualization immediately, without costly implementation projects.