Industry leaders will provide insight into current workforce challenges, AI, robot interoperability and other key topics
CHICAGO (SEPTEMBER 8, 2021)—FABTECH 2021 is pleased to announce this year's lineup of keynotes, Leadership Exchanges, FABx Tech Talks and panel discussions. As the first large-scale B2B and manufacturing trade show to be held at Chicago's McCormick Place since the onset of the COVID-19 pandemic, FABTECH 2021 will provide attendees with long-awaited opportunities to hear experts discuss common challenges, emerging trends and important advancements during these special events, which take place each day of the show—Sept. 13-16.

"Our industry is changing—drastically, and quickly—and that's why it's essential that the global fabrication community comes together now, after two years apart, to explore where we are now and answer the question of, 'what happens next?,'" said John Catalano, SME senior director, FABTECH. "The presentations and keynotes at FABTECH 2021 provide unique opportunities to learn about innovations, best practices and industry shifts, from the people shaping the future of manufacturing. These events are sure to inspire our attendees, while providing practical information that will empower us all to better navigate this time of transformation."
In the FABTECH 2021 keynote presentations, industry luminaries will open up about the learning moments and philosophies that led them to notable successes like landing a rover on Mars, creating boundary-pushing motorized builds and establishing a successful workforce development formula. Speakers include:
• Adam Steltzner, Leader & Chief Engineer, NASA Mars 2020 Mission, Rover Perseverance
Into the Unknown: How Leadership, Ingenuity, and Perseverance Put a Rover on Mars
Tuesday, Sept. 14 • 8:30 - 9:30 a.m.
• David Ankin, CEO of ToyMakerz, Inc.
Designing to the Extreme
Wednesday, Sept. 15 • 8:30 - 9:30 a.m.
• Adam Genei, Owner of Mobsteel and Detroit Steel Wheel Co.
The Greatest Machines Ever Made: Cultivating the Next Generation of American Workers
Thursday, Sept. 16 • 8:30 - 9:30 a.m.
The Leadership Exchange and State of the Industry panels will feature groups of subject matter experts who will discuss the next phase of advanced manufacturing, the importance of mobile robot and standard robot interoperability, tactics for cultivating the next generation of manufacturing talent and how to navigate 2022 with the industry's constant state of transformation. During the FABx Tech Talks, visionary manufacturers will share details about how they are integrating technologies like automation, AI and data analytics into all aspects of their operations—from the production floor to the supply chain.
From Monday, Sept. 13—Wednesday, Sept. 15, FABTECH also will feature the 3D/Additive Manufacturing Showcase in the 3D/Additive Manufacturing Pavilion to provide access to information on this fast-growing technology. The showcase will spotlight industry-leading companies sharing 20-minute presentations on the latest in the Additive Manufacturing community.
In addition to these special events, FABTECH 2021 will include over 150 carefully curated education sessions, an expansive show floor featuring more than 1,000 exhibitors and 400 new products and technologies across every facet of the industry, and unmatched networking opportunities with peers, industry leaders, buyers and manufacturers.
Attendees can also enjoy complimentary access to the exhibit hall at RAPID + TCT. This leading additive manufacturing event will be held alongside FABTECH at McCormick Place, providing industry professionals with the chance to evaluate a variety of technologies and network with prominent figures in the additive manufacturing space.
To learn more about the special events and features in store for FABTECH 2021, visit fabtechexpo.com. To secure a free exhibit hall pass, register by Sept. 9, 2021.
###
ABOUT FABTECH
FABTECH is North America's largest metal forming, fabricating, welding and finishing event. The event provides a convenient venue where you can meet with world-class suppliers, see the latest industry products and developments, learn about key topics from visionary leaders and find everything you need to improve productivity and increase profits. FABTECH is made possible by its five event partners, all of whom represent the varied and diverse makeup of the manufacturing industry. They include the American Welding Society, the Chemical Coaters Association International, the Fabricators & Manufacturers Association International, the Precision Metalforming Association and SME. Read more about FABTECH's event partners here.
Featured Product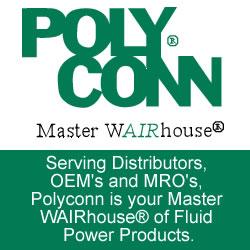 We can produce pneumatic hose and other pneumatic products to match your exact specifications. Our proficient engineering and quality management, coupled with outstanding customer service means Polyconn delivers high quality pneumatic components at competitive prices. Place your order or contact Polyconn for more information on our pneumatic hoses, pneumatic manifolds, Duratec® Pipe or any of our other top quality pneumatic products and components.