Study issued by RIDC, Greater Pittsburgh Chamber, with research by TEConomy, proposes urgent plan of action.
Pittsburgh, PA—September 8, 2021— The Pittsburgh autonomy sector has reached critical mass and has the potential to become a major player in the global market, a new study finds. But urgent action is needed to compete more effectively against other regions and to encourage autonomy companies to locate and remain in Southwestern Pennsylvania as they mature and grow.

The report — "Forefront: Securing Pittsburgh's Break-out Position in Autonomous Mobile Systems" — was issued by Regional Industrial Development Corporation (RIDC) and the Greater Pittsburgh Chamber of Commerce with research conducted by TEConomy Partners.
The culmination of a nine-month long study, the report finds that the Pittsburgh region is one of the top centers for autonomous mobile systems — a sector predicted to grow to a $1 trillion+ global market by 2026, with an estimated 5,000 jobs and a $10 billion impact for a region that captures 1 percent of that global market growth.
The study was conducted with funding from the Richard King Mellon Foundation and in collaboration with Carnegie Mellon University, the University of Pittsburgh, the Pittsburgh Regional Alliance, the Pittsburgh Technology Council, the Pittsburgh Robotics Network, and the region's top autonomous technology companies, including Argo AI, Aurora, Carnegie Robotics, Motional, Seegrid, and Thoro.ai.
The estimated direct employment footprint of Pittsburgh's autonomy sector totals over 6,300 jobs which provide an estimated $651 million in labor income, $34.7 million in state and local tax revenues, and $126.7 million in federal tax revenues. These companies generated an additional 8,604 full- or part-time indirect jobs, bringing the total number of jobs in the region that are dependent on the industry to 14,923.
Though Pittsburgh is already a national hub, the study found that its gains are at risk due to competition from other regions, a challenging regulatory environment for testing and deployment, and insufficient coordinated support for the sector. The study offers a six-part strategic plan with specific strategies to reinforce the region's current strengths, attract and retain talent, and root emerging companies in the region.
• State-level autonomy program to position the region for future growth, including regulatory changes and increased funding.
• A coordinated effort to advance the identity of the region as a leading autonomous systems hub serving a diverse set of markets.
• Better coordination of the region's innovation ecosystem assets to support the autonomous systems industry.
• Further development of the regional autonomous industry supply chain to capture future manufacturing opportunities and jobs when the sector scales to market.
• Creation of demonstration and testing infrastructure assets to support industry scaling.
• Expansion of the talent pipeline to support the growth of autonomous systems industry, which is expected to require a diversity of new jobs, both degree-requiring and not.
TEConomy analyzed the economic impact of 71 local firms (or in cases of major multinational corporations, the divisions, or operating units of those firms), which were identified as having core business operations primarily serving the autonomy sector.
Other key findings include:
• Not only is Pittsburgh 7th in autonomous business establishment volume, it is 2nd only to Detroit-Ann Arbor in concentration of market leaders.
• Pittsburgh's diverse base of autonomy companies is a crucial competitive strength that can help the region remain agile to shifts in broader markets as adoption of autonomy solutions grows.
• Pittsburgh has an R&D-intensive industry; it does not yet have widely productized goods and services or large-volume consumer bases, which it needs for long-term autonomy sector eminence.
• While Pittsburgh is an R&D center, companies are choosing to locate testing infrastructure investments and jobs in other states that have the environmental and regulatory conditions companies find attractive - which is likely to continue unless the region updates its regulatory framework.
• Pittsburgh's future within this increasingly competitive space is far from assured; the region cannot take a passive stance and rely solely on existing industry and innovation activities.
The report notes that: "Pittsburgh will face increasing competition from regions with signature state and regional initiatives that support autonomous systems applications and must establish its own programs to reinforce its current innovation ecosystem as well as root emerging companies and talent in the region."
"We have a tremendous opportunity to become the premiere global center of autonomous technologies," says RIDC President Donald F. Smith, Jr. "But to achieve that, our focus can't just be on R&D. We need to close the commercialization cycle by manufacturing and distributing end-user products and services here, too, just like we historically did for steel. And we need to make regulatory changes that remove barriers and make our region more attractive. We have all the puzzle pieces. We need to put them together strategically and collaboratively - with a coordinated regional plan - or we'll fall behind the competition."
"In the Pittsburgh region, we don't wait on opportunity, we seize it. That drive has allowed our region to define - and redefine - itself over time and reinforce its value proposition in a changing world. Our region has such an opportunity now with autonomy, a global growth market and a sector where we're well-positioned to compete," said Matt Smith, president of the Greater Pittsburgh Chamber of Commerce, an Allegheny Conference on Community Development affiliate.
He goes on to comment, "to claim global leadership, long term, a focused state-level autonomy policy is essential. That will enable us to compete - and win - in this space. The entire 10-county region has so much to gain if we move now to create the right environment to leverage an opportunity that's cross-cutting - from self-driving vehicles and robotics to farming and advanced manufacturing. Pittsburgh can become the global hub for autonomous technologies with opportunities up and down the sector's supply chain and future-focused jobs for workers of all levels from technicians and skilled trades to PhDs."
"Pittsburgh long has relied on a proven formula to generate prosperity: We see opportunities for national and global economic leadership, and we seize them," said Sam Reiman, director of the Richard King Mellon Foundation, which provided funding for this project. "At the Foundation, we years ago identified the autonomous vehicles industry as one of the next great opportunities for Pittsburgh leadership - and we've been betting on its potential with philanthropic investments ever since. This study makes that potential clear for everyone to see - and also makes clear what we need to do, together, to seize it."
Study participants included regional economic development organizations, universities, and the region's diverse base of autonomy companies. A full list can be found on page 142 of the report.
ABOUT RIDC:
RIDC catalyzes and supports economic growth through high quality job creation, real estate development and financing of projects that advance the public interest - developing real estate to capture emerging and existing growth opportunities across diverse industry sectors. With a focus on economic development that benefits communities, RIDC properties are home to many of the region's technology companies, ranging from fast-growing, early-stage entities to some of the leaders in the autonomy field.
ABOUT THE GREATER PITTSBURGH CHAMBER OF COMMERCE:
The Greater Pittsburgh Chamber of Commerce, the advocacy arm of the Allegheny Conference on Community Development, serves as the 10-county Pittsburgh region's chief advocate at all levels of government to secure public sector investment and legislative and regulatory improvements to improve the economy and quality of life. The enduring contribution of the chamber is its ability to bring people and organizations together around issues critical to the region's competitiveness and, through a unified voice, effectively convey the needs and priorities of the region to local, state and federal decision makers.
###
Featured Product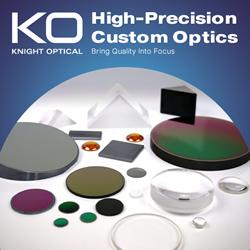 In the era of Industry 4.0, automation and machine learning drive the future. Knight Optical stands at the forefront, collaborating globally to supply precision optical components that power the robotics and automation sector. From UAVs, drones, and robotics to machine vision, LiDAR-driven car sensors, and renewable energy, our optics empower innovation. Optical components play an important role within the industry, including: Optical windows and domes safeguard systems in unmanned vehicles while preserving the field of view for cameras. Infrared lenses with aspheric surfaces elevate thermal imaging. Optical filters excel in machine vision, with colour glass, interference, and dichroic filters in our stock. Knight Optical provides stock components and custom solutions made to your exact specs. With every component undergoing rigorous metrology and QA checks before shipment, you are sure to experience true precision, innovation, and assurance.