• New ABB IRB 920T SCARA robot offers class leading speed and repeatability for electronics manufacturing applications • Shorter cycle times and high-quality production help Electronic customers launch new products faster
ABB is expanding its range of SCARA robots with the launch of the IRB 920T. Designed to meet the requirements of the electronics industry for high-speed production in increasingly complex manufacturing processes, the IRB 920T provides the highest levels of speed, accuracy and repeatability for assembly, picking and handling tasks.

"The need for companies to respond quickly to changing consumer demands is making SCARA robots a popular choice for production lines where fast and accurate performance is key to ensuring maximum product quality," said Antti Matinlauri, Head of Product Management for ABB Robotics. "Together with ABB's OmniCore controller, the IRB 920T is part of a new generation of robotic solutions from ABB that help manufacturers stay one step ahead of changing market demands."
With a cycle time of 0.29 seconds, the IRB 920T is faster than other SCARA robots in its class and up to 14 percent faster than ABB's current IRB 910SC SCARA robot, enabling more products to be produced per hour. With a maximum payload of 6kg and available in a choice of variants offering reaches of 450, 550 and 650mm, it can be installed throughout production lines to handle a variety of items, from single components through to assembled products.
Key to the performance of the IRB 920T is its excellent repeatability. Offering class-leading consistency, the IRB 920T can work quickly without the risk of errors, making it possible to achieve the highest levels of manufacturing quality with minimal or zero wastage. This flexibility is further supported by its lightweight and space-saving design. Weighing just 24kg, the IRB 920T is 10 percent lighter than other SCARA robots in its class, reducing cell design costs by eliminating the need for extra materials to support the robot. With all cables routed internally to remove cable interference, it also offers a compact footprint, enabling optimization of available production space.
The IRB 920T SCARA robot is on sale globally from September 20.
-------------------------------------------------
ABB (ABBN: SIX Swiss Ex) is a leading global technology company that energizes the transformation of society and industry to achieve a more productive, sustainable future. By connecting software to its electrification, robotics, automation and motion portfolio, ABB pushes the boundaries of technology to drive performance to new levels. With a history of excellence stretching back more than 130 years, ABB's success is driven by about 105,000 talented employees in over 100 countries. www.abb.com
ABB Robotics & Discrete Automation is a pioneer in robotics, machine automation and digital services, providing innovative solutions for a diverse range of industries, from automotive to electronics to logistics. As one of the world's leading robotics and machine automation suppliers, we have shipped more than 500,000 robot solutions. We help our customers of all sizes to increase productivity, flexibility and simplicity and to improve output quality. We support their transition towards the connected and collaborative factory of the future. ABB Robotics & Discrete Automation employs more than 11,000 people at over 100 locations in more than 53 countries. go.abb/robotics
Featured Product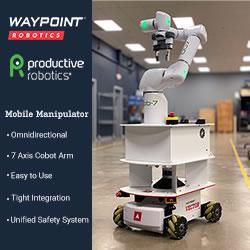 Waypoint Robotics/Productive Robotics omnidirectional 7 DoF mobile manipulator combines the easiest to use, most capable omnidirectional autonomous mobile robot with the simplest and most flexible 7 axis collaborative robot arm. The Vector AMR's omnidirectional mobility enables fast, precise docking in any direction or orientation so the OB7 can perform accurate and precise grasping or picking tasks, taking full advantage of the cobots' 7 degrees of freedom (7 DoF) and superior dexterity. It can be powered using Waypoint's EnZone wireless charger that provides on-demand energy and opportunity charging for longer run times. Workers can use this mobile platform to perform repetitive tasks such as machine tending, quality assurance sampling, material replenishment, packaging, and many others, so they can focus on the high skilled jobs for which they are uniquely qualified. It has never been easier or more cost effective to deploy a mobile manipulator for manufacturing and logistics applications.