Swinerton is one of the first contractors to have in-house operators for Dusty Robotics, a cutting-edge layout automation robot that transfers CAD files to construction sites
General contractor Swinerton is officially the first construction company with fully-trained in-house operators for Dusty Robotics, developer of robot-powered tools for the modern construction workforce.

Swinerton was an early adopter of Dusty Robotics' FieldPrinter. Swinerton's innovation and self-perform drywall departments partnered with Dusty Robotics during their prototyping phase of development, providing access to projects for testing and valuable functionality feedback. Through our R&D partnership with Dusty Robotics, Swinerton has successfully used FieldPrinter on building projects in San Francisco, San Jose, Beverly Hills, and Los Angeles, CA; Austin, TX; and Leesburg, VA.
"Now with two in-house trained operators, Swinerton is working on deploying FieldPrinter companywide, already seeing great strides in productivity. We look forward to every iteration of this robot and the positive impact it will have on our industry," said Bardo Ponce, Swinerton Drywall Operations Manager.
"Swinerton is proudly leading the way in integrating a more advanced robotic tool into our field environment, and not as an added service, but rather as a tool our trades and admin employees can utilize to augment their work. We are providing our employees with the most advanced state-of-the-art tools possible, and empowering them with the knowledge to use them," added Tristen Magallanes, Swinerton Innovation Analyst.
"Having Dusty Robotics operations skills in-house means that Swinerton is always equipped to provide better service to our projects and clients by having our own operators available to our project teams. We've seen benefits such as schedule acceleration, and foremen saving time and improving quality by taking BIM models and turning them into accurate and constructible layout," said Jim Watson, Swinerton Vice President and Division Manager of Self-Perform Services.
"Dusty is excited to work with Swinerton to enable their workforce to take advantage of robotic layout on projects across the US. Through this partnership, we've shown that robotic layout is something that will benefit the entire industry—and that it's a tool that can be adopted by contractors today. We are now growing our training program, with several dozens of operators having already been trained to successfully use the FieldPrinter robotic layout system, and ramping up production. I want to see a FieldPrinter on every large construction site by the end of 2022," said Dusty Robotics Founder & CEO Tessa Lau, PhD.
About Swinerton
Swinerton provides commercial construction and construction management services throughout the United States and is a 100% employee-owned company. Recognized nationally since 1888, Swinerton is the preferred builder and trusted partner in every market it serves—proudly leading with integrity, passion, and excellence. For more information please visit: https://swinerton.com/
About Dusty Robotics
Founded in 2018, Dusty Robotics develops robot-powered tools for the modern construction workforce, accelerating the digital transformation of the construction industry by extending digitization out to the job site. Dusty's advanced construction automation tools synchronize Building Information Modeling (BIM) models with the field, eliminating manual steps and ensuring quality and accuracy. Dusty's flagship product is FieldPrinter, an autonomous mobile robot that works with existing BIM designs to print plans directly onto construction-site floors. Founded by serial entrepreneurs and roboticists who have built several successful robotics companies, Dusty is backed by leading venture capital firms Canaan Partners, NextGen Venture Partners, Baseline Ventures, Root Ventures, and Cantos Ventures. For more information, please visit: http://www.dustyrobotics.com.
Featured Product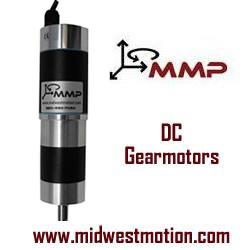 MMP now offers Right Angled Gearmotor designs which allow for significantly increased versatility, with the ability to be installed in tight spaces. We can employ any of our standard Brushed or Brushless Motors with our standard Planetary Gearheads to complete the new R/A Design. The photo is of one of our standard Brushed Motors attached to one of our Standard Planetary Gearheads via our R/A Gearbox design.