Visit Booth 5442 to learn about an automated e-commerce bagging machine that increases productivity and reduces material costs
BEAVERTON, Michigan - BMG (Brown Machine Group) will be showcasing the e-Wrap Series™ e-commerce bagger from NAS Nalle Automation Systems at PACK EXPO Las Vegas, Sept 27th-29th, 2021, in Las Vegas, NV. Stop by booth C-5442 to learn about the automated bagging system that can increase output by 4X and reduce material cost by 10X compared to manual packaging using preformed bags.

The e-Wrap Series baggers are ideal for a wide range of e-commerce products, including apparel, office equipment and supplies, tool and part supplies, publications, along with general merchandise typical in the fulfillment markets.
"The e-Wrap bagger is an ideal solution for fast growing e-commerce fulfillment operations", according to Kurt Huelsman, President of NAS Nalle Automation Systems. "The robust design uses our patented low temperature sealing system to create labeled packages with the highest seal integrity at the lowest possible maintenance. Its small footprint (43"x78") and portability allow it to be installed and running in a day."
Capable of using a wide variety of poly film types, the e-Wrap features a unique auto bag length feature that saves significantly on material use and eliminates the need for pre-made bags. The system can be configured to create bag sizes ranging from 8"x10" to 20"x20".
The e-Wrap Series bagger includes printer and shipping label functionality that is easily connected to the facilities warehouse management system (WMS). The machine can also be integrated with new or existing conveyor systems, and other feeding and takeaway automation.
Visit BMG at Booth 5442 at Pack Expo to learn more about industrial grade bagging technology for the e-commerce packaging industry.
About BMG
BMG (Brown Machine Group) in Beaverton, MI, is a global leader in thermoforming, tooling and automation with best-in-class quality and innovative product lines manufactured by Brown Machine, Lyle Industries, GN Thermoforming Equipment, Freeman Company, NAS Nalle Automation Systems, and aXatronics. It designs and manufactures a complete line of continuous and cut-sheet thermoforming equipment, tooling, material handling and packaging automation, robotics, and related services including system upgrades, prototyping, process optimization, and technical support. Its equipment has been "Made in North America" for nearly 70 years, with systems operating in over 70 countries serving customers worldwide. Visit www.brownmachinegroup.com for more information.
Featured Product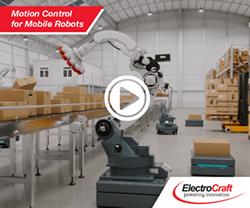 The new MPW86 offers a best in class 500lb per wheel load with speeds of up to 4.3 meters/second. The MPW86 offers powerful starting torque of 35 Nm and 20 Nm continuous. The MPW86 integrated design provides increased performance and reliability at an affordable price compared to traditional motor/gearbox/wheel combinations. The MPW86 is an ideal drivetrain solution for medium to large payload mobile robots and AGVs.