New Office Incorporates Lab and Demonstration Space, Enabling Customers, Partners and Prospects to Engage With Realtime Robotics' Technology In Person
BOSTON and TOKYO - September 27, 2021 - Realtime Robotics, the leader in autonomous motion planning for industrial robots, announced today that it has opened a new office in Japan to meet the growing demand it has experienced in the region. The new office, located in Tokyo, in the Shinagawa area, will be publicly opening on October 1, 2021.

Manufacturing, logistics and automotive companies throughout the region have been looking to accelerate their adoption of industrial robotics to enhance productivity and answer labor shortages. Many have turned to Realtime Robotics to help them remove engineering complexity, reduce cycle time, lower expenses and establish greater operational efficiency. With the opening of the new office's lab and demonstration space, these companies will be able to directly collaborate with Realtime Robotics' team and better understand how the company's technology works.
"One of the key sparks for evolution in the manufacturing and logistics industries has been finding a way to accomplish more, while using less resources," said Koji Kobayashi, Vice President of Business Development, Japan, at Realtime Robotics. "Our technology can help improve robotic automation and collaboration, limiting programming complexity and speeding deployment and redeployment. We're excited to open this new space and be able to showcase these advances to customers and partners, both new and existing."
Realtime Robotics transforms robotic automation with its innovative, real-time collision-free motion planning technology. The company's advances enable single or multiple robots to operate autonomously at full speed, in both unstructured and uncaged environments. Realtime Robotics recently announced a $31.4 million Series A investment round. The company works with Japa
nese customers and partners such as FANUC, Kawasaki, Mitsubishi Electric, Siemens Digital Industries Software, and Yaskawa.
"Realtime Robotics is well-positioned to take advantage of the increased market demand for technology like ours that can help organizations both lower their costs and improve the efficiency of their industrial robots," added Peter Howard, CEO, Realtime Robotics. "It's a perfect time to invest in our facilities in the region, as the optimization and scaling of robotics has never been more important."
About Realtime Robotics
Realtime Robotics technology generates collision-free motion plans in milliseconds for industrial robots and autonomous vehicles. Its solution empowers robots to function together in unstructured and collaborative workspaces, as well as to react to dynamic obstacles the instant changes are perceived. Its solutions expand the potential of automation. Learn more about Realtime Robotics here, watch our technology in action here and connect on Twitter and LinkedIn.
Featured Product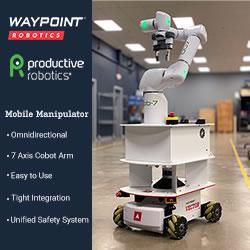 Waypoint Robotics/Productive Robotics omnidirectional 7 DoF mobile manipulator combines the easiest to use, most capable omnidirectional autonomous mobile robot with the simplest and most flexible 7 axis collaborative robot arm. The Vector AMR's omnidirectional mobility enables fast, precise docking in any direction or orientation so the OB7 can perform accurate and precise grasping or picking tasks, taking full advantage of the cobots' 7 degrees of freedom (7 DoF) and superior dexterity. It can be powered using Waypoint's EnZone wireless charger that provides on-demand energy and opportunity charging for longer run times. Workers can use this mobile platform to perform repetitive tasks such as machine tending, quality assurance sampling, material replenishment, packaging, and many others, so they can focus on the high skilled jobs for which they are uniquely qualified. It has never been easier or more cost effective to deploy a mobile manipulator for manufacturing and logistics applications.