IncOder CORE is compact, easy to install and reliable, delivering superior performance for a wide range of robotic segments.
BEDFORD, Mass. (Sept. 29, 2021) — Celera Motion, an award-winning business unit of Novanta Inc., announced today another innovative new device for precise angle measurement: a compact, ultra-lightweight inductive angle encoder, ideal for a variety of surgical, medical and industrial robotics.

IncOder CORE is a non-contact device featuring the robust and reliable position sensing technology of IncOder — all fully contained in a stacked printed circuit board (PCB) kit that reduces OEM system mass.
"While IncOder remains the market leader in harsh environment position sensing, IncOder CORE delivers superb performance in an extraordinarily lightweight package," said Mike Mainvielle, Vice President of Product Management and Marketing for Celera Motion. "Like all IncOder devices, it's easy to install and uses proven technology that provides worry-free, accurate measurements 24/7."
IncOder CORE is well suited for integration into rotary joints. The position sensor utilizes a unique field-proven inductive technique, delivering highly repeatable, reliable, temperature-stable performance.
IncOder CORE is designed primarily for segments including surgical robotics, medical robotics, rotary actuators and industrial robotic systems. It's now offered in a compact 44mm size, with a 10.4mm thru bore and options for customization available. More sizes will be coming soon.
Features of the IncOder CORE include:
Compact, lightweight PCB construction
No precision installation tolerances
No calibration required
An ergonomic hollow bore design
Bearingless
Absolute position feedback
Immune to contamination
Benefits of the IncOder CORE include: ​
Reduced system weight and design envelope
Simple installation
Reduced OEM production time and cost
Optimized for use in rotary actuators
Reliable feedback in demanding applications
Robust position measurement
IncOder CORE has been optimized for integration into host system mechanics. Each sensor includes a passive rotor target paired with an active stator — both featuring a large thru bore and practical M2 screw mounting features.
IncOder CORE can be configured to output up to 17 bits of absolute digital position data in a range of digital protocol options, including BiSS-C, SSI, SPI and Asynchronous Serial (ASI) outputs. It can be supplied with axial or radial connector options.
For more information visit: https://www.celeramotion.com/incoder-core/
About Celera Motion
Celera Motion, headquartered in Bedford, Mass., is a market leading provider of motion control components and subsystems for OEMs serving a variety of medical and advanced industrial markets. Celera Motion offers precision encoders, motors, and customized mechatronic solutions that help customers solve challenging motion control problems. For more information, visit www.celeramotion.com.
About Novanta
Novanta is a trusted technology partner to OEMs in the medical and advanced industrial technology markets, with deep proprietary expertise in photonics, vision and precision motion technologies. For more information, visit www.novanta.com
Featured Product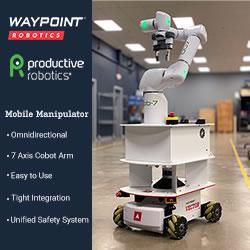 Waypoint Robotics/Productive Robotics omnidirectional 7 DoF mobile manipulator combines the easiest to use, most capable omnidirectional autonomous mobile robot with the simplest and most flexible 7 axis collaborative robot arm. The Vector AMR's omnidirectional mobility enables fast, precise docking in any direction or orientation so the OB7 can perform accurate and precise grasping or picking tasks, taking full advantage of the cobots' 7 degrees of freedom (7 DoF) and superior dexterity. It can be powered using Waypoint's EnZone wireless charger that provides on-demand energy and opportunity charging for longer run times. Workers can use this mobile platform to perform repetitive tasks such as machine tending, quality assurance sampling, material replenishment, packaging, and many others, so they can focus on the high skilled jobs for which they are uniquely qualified. It has never been easier or more cost effective to deploy a mobile manipulator for manufacturing and logistics applications.