Proof of Concept Center provides customers with a low-risk approach to validating solutions to examine cost, safety, quality, and labor requirements.
Industry-leading automation solutions provider, Omron Automation Americas, has opened a new Proof of Concept Center (PoCC) in Novi, Michigan, where customers can collaborate with application engineers and have access to the latest technologies to develop innovative automation solutions. The PoCC is a connected lab environment that offers real-world, hands-on application development, testing and technical training.

The Detroit PoCC is a place to test and validate applications for customers in various industries from manufacturing to logistics. The ability to test and prove out solutions prior to making a significant capital investment is important and is a valuable asset for risk mitigation. With access to the newest and most innovative technologies in the world, customers have the ability to brainstorm with Omron experts to create innovative solutions using future technologies.
Coupled with its highly skilled, onsite engineering team, the 6,000 square foot PoCC houses the latest industrial automation technologies, including robotics, artificial intelligence, machine control, advanced sensing and safety innovations. The PoCC also features a hands-on traceability experience where a guest can walk through a simulated manufacturing process to better understand the benefits of an advanced quality and traceability solution. The ability to detect and correct product design or production flaws can save significant time and money by avoiding future defects, recalls and start-up delays.
"No matter the diversity of the industries our customers serve, they all understand the importance of advancing automation and integrating smarter technologies to their processes," said Jeff Hall, senior director, Technology and Strategic Sales for Omron Automation Americas. "It can be difficult for customers to know where to start on their Industry 4.0 journey, so leveraging the expertise of our engineers is crucial. The current severe labor shortage has escalated the demand for automation technologies. The Detroit PoCC features technologies like Autonomous Mobile Robots (AMRs), fixed and collaborative robots, and advanced control solutions to support these industry challenges."
The newest Omron PoCC, one of nine PoCC locations in the Americas, is centrally located to service companies throughout Michigan and the Midwest region and currently serves many industries including automotive, aerospace, food and commodities, infrastructure, life sciences, and logistics. Automation and manufacturing professionals who would like to tour the facility, meet Omron experts, and learn more about its service can schedule a visit at https://automation.omron.com/en/us/our-value/atc-poc/detroit.
About Omron Automation
Omron Automation is an industrial automation partner that creates, sells and services fully integrated automation solutions that include sensing, control, safety, vision, motion, robotics and more. Established in 1933 and currently headed by President Yoshihito Yamada, Omron's 30,000 employees help businesses solve problems with creativity in more than 110 countries. Learn more at automation.omron.com.
Featured Product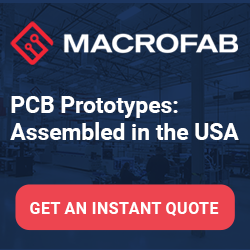 At MacroFab, we understand the challenges engineers face when searching for the perfect partner to bring their visions to life. Traditional overseas prototype factories may offer low-cost solutions but often have hidden compromises. Say goodbye to subpar quality, communication barriers, and frustrating delays - choose MacroFab for a stress-free, reliable, and professional prototyping experience.