AWS Robotics Accelerator to scale robotics startups focused on automation and IIOT
BOSTON, MA / November 29, 2021 / MassRobotics has announced a new Amazon Web Services, Inc. (AWS) Robotics Startup Accelerator to address the biggest challenges in the automation, robotics, and industrial internet-of-things (IIoT) industries. MassRobotics is helping to create and scale the next generation of successful robotics and connected devices companies by providing entrepreneurs and innovative robotics startups with the workspace and resources they need to develop, prototype, test, and commercialize their products and solutions. Combined with the world-class cloud technical resources and massive network that AWS provides, the strategic collaboration will help robotics startups and the industry overall to experiment and innovate, while connecting startups and their technologies with the AWS customer base.

The AWS Robotics Startup Accelerator, which is delivered by MassRobotics, is a four-week technical, business, and mentorship accelerator opportunity open to robotics startups from around the globe. The program application period is open from November 29, 2021 through January 16, 2022. MassRobotics will provide expertise in venture capital and startup acceleration to help drive a select cohort of robotics startups through an intensive, advanced curriculum specially designed to accelerate their growth using AWS.
Startups selected to participate will receive:
• specialized training in AWS Robotics solutions
• up to $10,000 in promotional credits for use of AWS IoT, Robotics, and ML services
• mentoring from robotics experts and technical subject matter experts in AI/ML and IoT
• co-marketing with AWS via blogs and case studies upon completion of PoC
• business development and investment guidance from MassRobotics
• networking opportunities with other startups
• introductions to the AWS Partner Network
"With the massive adoption and deployment of robotics solutions in manufacturing, logistics and other sectors, the need and reliance on cloud technologies have grown exponentially," said Fady Saad, Co-Founder and Vice President of Strategic Partnerships at MassRobotics. "We are excited to establish this program to help robotics startups accelerate their growth and solve big challenges by using AWS."
"At AWS, we believe that startups ignite innovation and drive bold new experimentation, especially so in the robotics industry," said Eric Anderson, General Manager of Robotics and Autonomous Services, AWS. "Through our collaboration with MassRobotics, we're thrilled to deliver a four-week accelerator program aimed at mentoring the next generation of robotics innovators through hands-on technical and business training."
MassRobotics has a successful track record in developing similar innovation programs with strategic partners like Festo, General Motors, Panasonic, Analog Devices, and Mitsubishi Electric. These corporate partners provide strategic guidance, bring MassRobotics residents' technologies to their markets, and create practical programming and networking opportunities for residents, partners, and investors.
MassRobotics is currently leading a cluster of the highest concentration of robotics companies in the world with approximately 400 companies, 65 resident startups, and 40 strategic partners. The organization's unique "escalator" model allows startups to get established, grow, scale, and provide meaningful employment for the future workforce and to provide ongoing value for MassRobotics's partner organizations.
Interested organizations learn more about the AWS Robotics Startup Accelerator program and apply here. https://pr.report/XuA6ghDO
# # #
About MassRobotics
MassRobotics is the result of the collective work of a global group of engineers, rocket scientists and entrepreneurs with a shared vision to create a strong, vibrant robotics and IoT ecosystem. MassRobotics' mission is to help create and scale the next generation of successful robotics and connected devices companies by providing entrepreneurs and innovative robotics/automation startups with the workspace and resources they need to develop, prototype, test and commercialize their products and solutions. See massrobotics.org for details.
Featured Product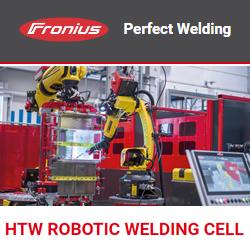 Modular, collaborative, and flexible: the "Handling-to-Welding" robotic welding cell joins parts of different geometries and materials. The task is carried out by two robots - the handling robot positions the workpieces, the second robot performs the welding. Depending on the cell configuration, lock gates are available for the inward and outward transport of parts. Furthermore, various positioners, a TCP measurement system, a torch cleaning system, a gripper station, and a contact tip change system are also possible.