AgileX Robotics robotics chassis is ready for ROS2 and Gazebo, and some will come soon!
Nowadays, AgileX Robotics announced that its most mobile chassis development platforms have gotten new GAZEBO simulation modelling and environments ready, that is designed by AgileX Robotics very own software team. To get started with ROS and simulating our robots in Gazebo via our GitHub link: https://lnkd.in/g4YWgKaU

Moreover, Scout 2.0 has supported the ROS2, and the ROS2 packages to be programmed in our other robots are also on the way. AgileX Robotics is also committed to building a better robotics development platform for robotics and autonomous driving robotics developer to program ROS2, based on AgileX robotics full line up of drive-by-wire robotics chassis to create more possibilities in more advanced functions and applications.
For AgileX Robotics' commitment to building a better open-source community for worldwide developers of ROS, robotics and autonomous driving applications, we have extended our software team to empower creating more flexible ROS and Gazebopackages and ROStutorials.
AgileX Robotics is a leading mobile robot chassis and unmanned driving solution provider building the best robot development platforms for all industrial researchers, education, startup and corporates.
Until now, AgileX Robotics has developed a full line-up of industry-leading robotics chassis that fully meet all industry requirements, including general unmanned ground vehicle (UGV), indoor global automated vehicle (AGV), and tracked chassis, some of them have obtained CE certification. Back by mature software capabilities, AgileX Robotics also provides customized autonomous robot solutions comprising robot R&D kits, mobile manipulators Cobot Kit, and Autopilot Kits and more, to enable industrial and education engineers to easily and quickly develop and deploy their AI robot project in all industries fields.
The company's core teams come from leading companies such as DJI and Mathworks and well-known scientific research institutions. With the cooperation with over a thousand enterprises including Alibaba, Huawei, Honda, the China Construction Third Engineering Bureau, and over fifty global top universities, AgileX Robotics has deployed more than one thousand applications in a range of industries purposes including autonomous driving, academic research, agriculture management, geographic surveying industries, and more.
Featured Product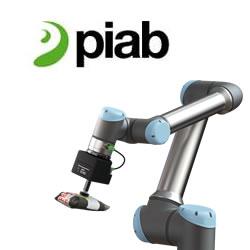 Piab's Kenos KCS gripper enables a collaborative robot to handle just about anything at any time. Combining Piab's proprietary air-driven COAX vacuum technology with an easily replaceable technical foam that molds itself around any surface or shape, the gripper can be used to safely grip, lift and handle any object. Standard interface (ISO) adapters enable the whole unit to be attached to any cobot type on the market with a body made in a lightweight 3D printed material. Approved by Universal Robots as a UR+ end effector.