The NSI1000A0M supports 1024x32 concurrent depth points in addition to multi-triangulation and fast camera mode, and it recently got 3X better performance compared to previous versions
As part of its efforts to provide the best depth sensing ROI, today Newsight Imaging introduced the NSI1000A0M - an optimized version of the NSI1000 sensor for outdoor 3D imaging and for low reflectance applications. The sensor is already in intensive integration at selected customers in the smart city, automotive, and industry 4.0 markets.

The NSI1000A0M supports both eTOF (Newsight's patented enhanced Time-of-Flight technology) and multi triangulation technologies with 32 lines of 1024 pixels, enabling 32 simultaneous ultra-accurate triangulation points extracted from a single frame using the NSI1000A0M global shutter, or 1024x32 concurrent eTOF depth points. The power efficient sensor, offered at an attractive price, provides multiple added-value features, including: automatic peak detection, multiset, auto exposure, and more. Utilizing the revolutionary in-pixel accumulation feature, each pixel can capture thousands of returning pulses in one frame, translating them into highly sensitive digital signals, able to adapt to beam intensity based on distance and reflectance, while providing both a 3D and black and white image in the same frame. In addition, Newsight has launched a new configuration tool that supports easy customer optimization to achieve the optimal required performance. An evaluation kit of the NSI1000A0M is now available for testing.
About Newsight Imaging
Newsight Imaging (www.nstimg.com) develops advanced CMOS image sensor chips for 3D machine vision and spectral analysis. Newsight's depth camera sensors for machine vision serve verticals such as Mobile, Robotics, Industry 4.0, Automotive Safety, etc. The company has recently launched its one-of-a-kind solid-state LiDAR reference design, the eTOF™ LiDAR - based on the NSI1000 sensor. In addition, Newsight developed a spectral chip backed by AI technology, demonstrated in the SpectraLIT™. The SpectraLIT™ offers a unique and affordable solution for remote healthcare, real time diagnosis, and quality inspection solutions for water, food & beverage, etc. The company has US and EU patents and has received multiple grants by the Israeli Innovation Authority.
Featured Product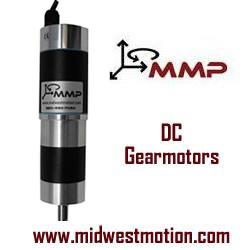 MMP now offers Right Angled Gearmotor designs which allow for significantly increased versatility, with the ability to be installed in tight spaces. We can employ any of our standard Brushed or Brushless Motors with our standard Planetary Gearheads to complete the new R/A Design. The photo is of one of our standard Brushed Motors attached to one of our Standard Planetary Gearheads via our R/A Gearbox design.