Cobots One of Country's Hottest Automation Trends
Turkey's burgeoning advanced technology market and its advantageous geographic location between Europe and Asia has made the country an important manufacturing and distribution hub.

According to Turkey's Industrial Automation Association (ENOSAD), the country's leading manufacturing organization, the industrial automation market in Turkey was valued at $1.6 billion in 2020, with an annual growth rate of approximately 10 percent. The market is expected to reach $2.5 billion by 2025.
ENOSAD is a non-governmental organization comprised of 16 Turkish and international corporations working in the field of industrial process and automation. ENOSAD has identified collaborative robots, modular automation systems and in-factory 5G networks as the hottest industrial automation trends in Turkey.
Poised to capture a share of that cobot market is Shanghai, China-based ELITE ROBOT through its Turkey-based OTES Elektronik distributor, which was founded in 1997 and became a distributor of ELITE's collaborative robots in mid-2021.
"We do systems integration and resell industrial equipment. We have completed robotic projects as well. Some robot manufacturers are also doing system integrations, so we were competing with our suppliers. We were always the loser in such cases. So, OTES decided to pursue its own solutions and act as the exclusive distributor for a robot manufacturer," said OTES Elektronik Product Manager Sedat Atalay in explaining why his Istanbul-based company wanted to find a cobot manufacturer with which to work.
Several factors entered into the decision by OTES to become a distributor for ELITE ROBOT.
"We were very impressed with ELITE's approach, which included both fast response and product support. Another was its product pricing, which is really very important for the Turkish market," said Atalay.
ELITE ROBOT was created in 2016 as a spinoff from Beijing University of Aeronautics and Astronautics, now known as Beihang University. The company passed the 10,000-unit production mark and has quickly grown beyond its original Asian base. It is expanding into new global markets in a range of sectors, including plastics, automotive, electronics, packaging, logistics, metal fabrication and chemical processing, among others.
Turkey is one of the markets that looks to be fertile ground for ELITE.
According to the U.S. Department of Commerce's International Trade Administration (ITA), Turkey positions itself in the global supply chain by leveraging its logistical advantage, offering lower labor costs and flexible production capabilities. The country's manufacturing share of GDP has increased to 18.83 percent in the last decade and Turkey aims to boost in to 21 percent by 2023 through its 2023 Industry and Technology Strategy.
"The demand for cobots in Turkey is just beginning. Other manufacturers are lowering and adjusting their prices according to Turkish market acceptance. Investors will think more about cobot applications because of reasonable prices," said Atalay.
Atalay explained that the minimum salary for a simple worker in Turkey is about $300 USD ($500 USD gross) per month. "Companies are always calculating ROI according to this salary range. If ROI is shorter than two years, then they immediately invest. If it is between two-to-four years, they are thinking about such things as quality and long-term contracts. An ROI of five or more years is not profitable for a cobot investment," he said.
The ITA says there are 15,000 operational industrial robots in Turkey, with about half in the automotive industry. According to 2020 statistics, countries with robotic capabilities in manufacturing deploy, on average, 80 robots per 10,000 workers. Turkey uses just 30 workers per 10,000 workers, leaving significant potential growth opportunity. Robots in Turkey are most often used in the automotive industry, with more than 210 robots per 10,000 workers, making it a top ten global market for robots used in the production of automobiles.
Unlike a traditional industrial robot which is generally kept behind a protective safety fence or barrier, every ELITE cobot is designed to work side by side with humans in the same space. The result is a bridge between the fully manual and fully automatic production modes.
All ELITE cobots are programmed interactively with a PC and drag-and-drop teaching, simplifying the programming logic, and dramatically reducing debugging time.
Atalay has said OTES has already sold a handful of ELITE's cobots, with its marketing efforts ongoing. He said it generally takes a minimum of one-to-two years for brand acceptance in Turkey, identifying ABB, Fanuc, Kuka and Yaskawa as the major brands in the country.
"Many companies are paying for the brand name. We believe we will be successful in Turkey with the support of ELITE," said Atalay. He said OTES in in discussion with several customers and is expecting additional sales soon.
One company that has already purchased from OTES is testing the cobot with plans to use it in a pick-and-place application.
ELITE's EC Series are lightweight but powerful six-axis cobots. Model EC63 weighs 13kg with a payload of 3kg and a working radius of 624mm. It typically runs on 150W. Model EC66 weighs 17.5kg with a payload of 6kg and a working radius of 914mm. It operates with 250W of power. The Model EC612 weighs 33.5kg with a payload of 12kg and a working radius of 1304mm. It is powered by 500W. Each model has a repeated positioning accuracy of +/-0.03mm.
Atalay said current world events such as the COVID-19 pandemic and global inflation have had an impact on purchasing trends.
"COVID-19 had many factories slowing or stopping production. When they are not producing, there is no need for investment. But doing so is both costlier and riskier," Atalay said. "Now, many of our customers are thinking about more automation to protect them from such risks in the future."
Global inflation also factors into a company's investment strategy, said Atalay.
"In some cases, high inflation effects investment positively. A company may be looking to have more automation to limit the risk of employment costs. They may be competitive even with high inflation if they can offer lower and stable costs to its customers," said Atalay.
OTES is currently active in the Turkish market with ELITE's cobot line and hopes to talk with ELITE about expanding its distribution territory to surrounding countries in Eastern Europe and the Middle East.
"Pricing is usually the first factor for our customers in deciding on new equipment, followed by product support. ELITE and OTES are able to offer both. My business partner and I have a combined 35 years of experience in factory automation, and each staff member has a minimum of 10 years' experience," Atalay said. "We are eager to give our full support to customers and let them use our expertise when they buy an ELITE robot."
Featured Product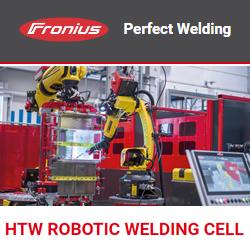 Modular, collaborative, and flexible: the "Handling-to-Welding" robotic welding cell joins parts of different geometries and materials. The task is carried out by two robots - the handling robot positions the workpieces, the second robot performs the welding. Depending on the cell configuration, lock gates are available for the inward and outward transport of parts. Furthermore, various positioners, a TCP measurement system, a torch cleaning system, a gripper station, and a contact tip change system are also possible.