• HighSpeed Alignment software uses vision technology to deliver breakthrough 70 percent increase in speed and 50 percent increase in accuracy • Software adds to electronics manufacturing portfolio that includes new variant of ABB's IRB 1300 with cleanroom option and IP54 IRB 920T SCARA robots
ABB Robotics has launched an industry leading, pioneering software solution to transform speed and accuracy in electronics assembly. Packed with 50 years of software expertise, ABB's High Speed Alignment software is the first to offer manufacturers the ability to increase the speed of 6-axis robots by 70 percent, and accuracy by 50 percent - significantly reducing time-to-market while increasing accuracy levels.

The PC-based software includes Visual Servoing technology using one or more cameras, combined with a computer vision system, to control the position of the robot relative to the workpiece. As the robot is moving, the cameras continuously capture image information that the computer vision system processes to cross check and adjust the robotic movements to deliver 0.01 to 0.02 millimeter precision.
Liang Rui, Managing Director for ABB's Robotics Electronics business line said "Sales of smartphones, wearables and other high-tech devices are growing and advances in electronics are gathering pace. As devices become smaller and more powerful, new automation solutions are required to quickly and accurately place components, ensuring that production can keep pace with demand while maintaining the highest levels of product quality."
ABB's articulated 6-axis robots are highly flexible for handling complex tasks in tight spaces and can perform a variety of meticulous placement tasks. The High Speed Alignment software was developed to find the perfect balance between speed and accuracy.
Along with effortless commissioning and tuning, system integrators and manufacturers can benefit from a reduction in deployment time - down from an entire shift of eight to just one hour. Minimal programming experience is required, as the software is easy-to-use and has an intuitive user interface. Additionally, the software is compatible with a wide range of cameras, and IRC5 and OmniCore™ robot controllers, allowing system integrators to adapt existing installations.
"Our latest innovation to the RobotWare family, the High Speed Alignment software enables electronic manufacturers to increase productivity by 70% while maintaining 0.01-0.02 mm accuracy levels. This is a breakthrough technology for the electronics assembly market," concludes Liang.
The software is compatible with ABB's IRB 1100 and IRB 120 industrial robots. More information and access to RobotWare High Speed Alignment can be found here: https://new.abb.com/products/robotics/application-software/assembly/high-speed-alignment
Alongside its software portfolio, ABB robotics continues to expand its robot portfolio for electronics manufacturing with its IRB 1300 new variant and the IRB 920T SCARA new options. The new IRB 1300 combines a high payload of 12 kilograms and a reach of 1.4 meters, allowing it to handle more and heavier objects at the same time, enabling more products to be produced per hour and increasing productivity. ABB's IRB 920T SCARA robot includes new options with IP54 and Cleanroom, ensuring stable production in dusty, wet, and cleanroom environments.
For more information, visit:
https://new.abb.com/products/robotics/industrial-robots/irb-1300
https://new.abb.com/products/robotics/industrial-robots/irb-920t.
--------------------------------------------------------------------------------------------------------------------------
ABB (ABB: NYSE) is a leading global technology company that energizes the transformation of society and industry to achieve a more productive, sustainable future. By connecting software to its electrification, robotics, automation and motion portfolio, ABB pushes the boundaries of technology to drive performance to new levels. With a history of excellence stretching back more than 130 years, ABB's success is driven by about 105,000 talented employees in over 100 countries. www.abb.com
ABB Robotics & Discrete Automation is a pioneer in robotics, machine automation and digital services, providing innovative solutions for a diverse range of industries, from automotive to electronics to logistics. As one of the world's leading robotics and machine automation suppliers, we have shipped more than 500,000 robot solutions. We help our customers of all sizes to increase productivity, flexibility and simplicity and to improve output quality. We support their transition towards the connected and collaborative factory of the future. ABB Robotics & Discrete Automation employs more than 11,000 people at over 100 locations in more than 53 countries. www.abb.com/robotics
Featured Product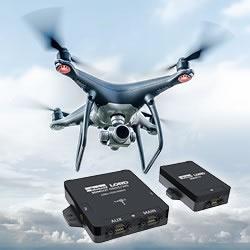 The new complete inertial navigation solution comes with GNSS/INS 3DMGQ7 sensor, 3DMRTK correction modem and real time SensorCloud RTK correction network. The sensor comes with Dual antenna GNSS, tactical grade IMU with centimeter-level accuracy with RTK. Low profile and light weight at 78 grams, this sensor is The sensor is optimized for size and weight in Unmanned Ground Vehicles, mobile robots and autonomous vehicles. The network interface 3DMRTK modem is seamlessly integrated into the 3DMGQ7 sensor supports industry-standard NMEA and RTCM 3.1 protocols. The network RTK support comes with cellular data plan. The SensorCloud RTK is a cloud-based RTK correction system with private encrypted data stream. Check out our G Series and C Series OEM products.