Virtual reality tech startup Extend Robotics has had its virtual reality (VR) robotics solution certified by the world-renowned company Universal Robots on their UR+ programme.
Extend Robotics was founded in 2019 by Dr Chang Liu. The tech startup uses consumer Virtual Reality (VR) technology to make it easier for individuals to control robotics hardware remotely. Dr Liu aims to enable humans and machines to work together in perfect harmony, to ensure no one is left behind in the shift to automation happening across the working world today.

Universal Robots is a Danish manufacturer of smaller flexible industrial collaborative robot arms, based in Odense, Denmark. The company is the world's largest collaborative robot vendor, having sold more than 50,000 collaborative robots used in several thousand production environments every day around the world. Their UR+ programme is an ecosystem providing access to more than 340 certified kits, components, grippers, software and safety accessories that seamlessly integrate with Universal Robot's cobots.
Extend Robotics' cloud-based SaaS solution Advanced Mechanical Assistance System (AMAS) pro solution, is now part of the UR+ ecosystem. AMAS enables users to control robotic arms remotely from anywhere in the world. Thanks to user-friendly VR tech like Oculus and SteamVR, non-technical users are able to benefit from full depth perception of 3D environments and accessible controls using intuitive arm-and-hand gestures in an immersive, real-time experience.
The system from Extend Robotics has already been recognised as a game-changer for robotics, allowing for non-technical users to programme and automate robotic tasks. It also proves especially impactful in environments where it is hard to achieve full automation, such as the handling of hazardous materials.
Speaking about the AMAS solution becoming an official part of the UR+ programme, Dr Liu said:
"We are thrilled to be part of the UR+ ecosystem. As one of the world leaders in collaborative robotics, being an official partner of Universal Robots demonstrates the quality and potential impact our products can have."
Welcoming Extend Robotics onto the UR+ ecosystem, Senior UR+ Implementation Engineer Stefan Kollmannsberger said:
"Working closely together with Extend Robotics was a great experience. It is always amazing to see innovative companies using new ideas to open application fields for our cobot! With the current challenges our world is facing teleoperating of our cobot will become more and more important. I am happy to see Extend Robotics joining our UR+ Ecosystem with their product!"
Featured Product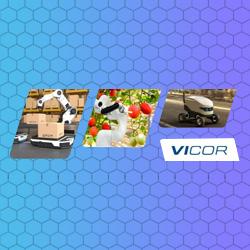 Vicor delivers a vast array of power solutions that support optimal power system designs that enable robots to go further and last longer. Explore a wide selection of articles, case studies, and white papers that explore all that Vicor has to offer for your next robotic design.