The Amazon Industrial Innovation Fund invests in BionicHIVE to address a key challenge in the fast-growing supply chain emerging technology industries. BionicHIVE will use the investment to grow its team, increase the footprint of its U.S. operations, and expand its customer base.
Shaar HaNegev, Israel - April 21, 2022, BionicHIVE, which enables a new age of robotics innovation, today announced that it received funding from the newly announced Amazon Industrial Innovation Fund aimed at investing in emerging technologies.

BionicHIVE has developed the SqUID robotics solution, which combines flexibility with safety and efficiency to solve customer operation challenges within a warehouse environment. Warehouses are rarely static environments with the uniformity and predictability necessary for traditional solutions. SqUID is deployed in a wide range of supply chain facilities utilizing existing shelving racks and boxes and is capable of pick and put-away from floor to ceiling.
"The purpose of the Amazon Industrial Innovation Fund is to support emerging technologies through direct investments, designed to spur invention and solve for the world's toughest challenges across customer fulfillment operations, logistics, and supply chain solutions," said Katherine Chen, Head of the Amazon Industrial Innovation Fund. "Amazon has recognized BionicHIVE for its differentiated solution capable of optimizing safety around repeated tasks, at any height, in the supply chain workplace, and this is the kind of technology that's pulling innovation forward."
SqUID's fleet of autonomous robots provides a one-stop solution that works alongside the warehouse workforce. The ability to string together and streamline multiple operations across the warehouse with robotics, orchestrated and controlled by a smart algorithmic engine, is a key differentiator. SqUID eliminates the rigid operational and financial requirements of traditional automation and requires no start-up costs.
"With Amazon's funding and support, BionicHIVE is growing its team and operations, establishing US footprint to expand its customer base and scale go-to-market, as well as increasing R&D," said Ilan Reingold, CEO at BionicHIVE. "We couldn't have asked for a better company whose investment is a validation of the unique approach and capabilities of our platform and whose guidance is invaluable," Reingold added.
About BionicHIVE:
Founded by Liran Raizer and Tomer Amit, BionicHIVE provides a fully automated autonomous robotic solution, SqUID, using the existing facility infrastructure, shelving racks and boxes. SqUID's robotic fleet, powered by an AI-based algorithmic engine, is capable of floor to ceiling picking, replenishing and putting-away. SqUID adapts to the customer's current model of operation all the way from distribution centers to the warehouse to the delivery truck, providing a one-stop automation solution for any warehouse.
www.BionicHIVE.com
Featured Product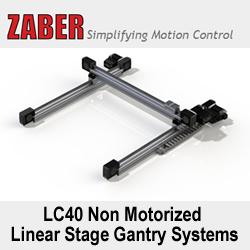 A Zaber gantry kit comes with everything you need to build a customized XY gantry system or XYZ gantry system. These gantry systems feature coordinated multi-axis motion, plug-and-play operation, easy integration with end-effector options, and built-in IO and E-Stop capabilities. An intuitive ASCII interface allows the user to easily communicate with the gantry systems using our free software, either Zaber Motion Library with APIs for several popular languages or Zaber Console. Third party terminal programs that can communicate over a serial port can also be used.