The THE800 and THE1000 robots are the latest additions to the Shibaura Machine SCARA range. The new models boast double the maximum operating speed compared to conventional alternatives, with an impressive 8,400mm per second and 9,500 mm per second joint speed respectively.
Industrial robot distributor, TM Robotics will exhibit at this year's Automate, held at the Huntington Place Convention Center in Detroit, Michigan on June 6 to 9, 2022. As the official Shibaura Machine — formerly known as Toshiba Machine — partner for North, Central and South America, TM Robotics will launch the latest robots at the event, including the THE800 and THE1000 SCARA models. You can visit TM Robotics at Shibaura Machine booth #2844.

The THE800 and THE1000 robots are the latest additions to the Shibaura Machine SCARA range. The new models boast double the maximum operating speed compared to conventional alternatives, with an impressive 8,400mm per second and 9,500 mm per second joint speed respectively.
The high-performance designs have been developed to meet demand for increasingly fast paced assembly applications. In fact, the cycle time is just 0.4 seconds with a 2kg load. The maximum payload for the THE1000 is 20kg.
The THE800 robot will be shown at Automate in an electric battery assembly demonstration. With the fast escalation of electric vehicles (EVs) in the market, Shibaura Machine has focused on providing a robot with adequate payload for the upcoming demand for equipment in battery manufacturing.
The Supata Smart Feeder from EPF — the Italian distributor and service partner of Shibaura Machine's injection molding machines — will also be demonstrated at the stand. The Smart Feeder is a vibratory feeder designed to handle components of any size or shape. Designed and manufactured in Italy, the system works in collaboration with a Shibaura Machine 6-axis robot for fast and precise operation.
The new THE SCARA robots will be demonstrated at Automate alongside the TS5000 robot controller and TP5000 teach pendant. The new controller has been engineered by Shibaura Machine's experts in Japan and offers users improved robot synchronization and control. Importantly, the controller is also enhanced with Internet of Things (IoT) capabilities, enabling automated data capture for improved robot maintenance.
"The TS5000 uses artificial intelligence to capture data and analysis on robot performance," explained Nigel Smith, President and CEO of TM Robotics. "This could include vibration analysis, which can determine predictive maintenance suggestions for the robot operator. Ultimately, these insights can reduce the amount of unplanned downtime and avoid unanticipated breakdowns."
In addition to demonstrating its latest robots and the Supata Smart Feeder, TM Robotics is inviting potential partners, distributors, and systems integrators to booth #2844. TM Robotics has long supported a network of equipment distributors in North, Central and South America and provided access to Shibaura Machine's robot technologies. At the show, potential new partners are invited to meet with the TM Robotics team to discuss partnership options.
"It is an exciting time for the automation market in the Americas," explained Ryan Guthrie, Executive Vice President at TM Robotics. "The application of articulated robots has seen rapid growth, but it is crucial that OEMs and systems integrators selecting robotic technology are opting for machines that are suitable for changing smart factory environments.
"The THE800 and THE1000 robots and the TS5000 controller have been developed with smart factories in mind," continued Guthrie. "Notably, the TS5000 has improved communication capabilities which allow for real-time transmission of data. This is crucial for ensuring reliability, monitoring, and control of the robot in a fast-paced industrial environment."
Attendees are encouraged to contact TM Robotics in advance of the show to book a meeting with a member of the team. Please contact info@tmrobotics.com or visit booth #2844 during the show.
Ends: 565 words
Editor's note: If you want to ensure you keep up to date with press material, opinion focused content and case studies from TM Robotics visit www.tmrobotics.com/press-releases
For further information contact:
TM Robotics, Inc.
755 Greenleaf Avenue,
Elk Grove Village,
IL 60007
USA
Telephone: (847)-709-7308
www: http://www.tmrobotics.com
e-mail: info@tmrobotics.com
Press enquiries: Laura England or Amy Langton - Stone Junction Ltd
1 St Mary's Gate, St Mary's Grove, Stafford, Staffordshire, ST16 2AW Telephone: +44 (0) 1785 225416
e-mail: amy@stonejunction.co.uk or laura@stonejunction.co.uk
www: www.stonejunction.co.uk
Blog: www.stone-junction.blogspot.com
Twitter: www.twitter.com/StoneJunctionPR
Facebook: http://www.facebook.com/technicalPR
LinkedIn: https://www.linkedin.com/company/stone-junction-ltd
About TM Robotics: TM Robotics has installed thousands of robots in factories throughout the world, including North and South America, India, Russia, Europe, the Middle East, Africa and Australia. Many of the top manufacturing companies depend on TM Robotics' product offerings for their reliability, performance, and overall value.
In partnership with Shibaura Machine, TM Robotics is the only company that offers a comprehensive range of all three categories of robots; 6-axis, SCARA, and Cartesian. These are designed and built in-house.
TM Robotics delivers cutting-edge solutions, training, and support services for industrial and commercial applications.
For further information please visit www.tmrobotics.com
Featured Product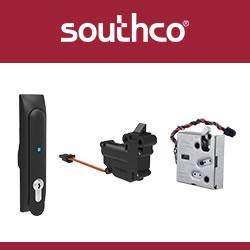 Many robotics engineers need to securely mount and latch sensitive electronic components in their robotics applications; Southco is able to help reduce theft and vandalism with our proven and reliable access technologies. Learn how Southco can help secure your robotics, or other smart city application, from theft and vandalism.