Large Selection includes Economy, Commercial, and Industrial Right-Angle Drives
Mineola, NY - KHK USA Inc., distributor of the market leading KHK ® brand of metric gears, announces its extensive line of right-angle metric gearboxes, manufactured to the highest quality standards by Kohara Gear Industry Co., of Japan. KHK's large selection of right-angle gearboxes are very quiet, provide smooth transmission of power, and are suitable for a very wide range of applications where speed reduction and a change in orientation is required.

KHK right-angle gearboxes are available with either a plastic housing for light-duty applications, an aluminum housing for medium-duty application, and cast-iron housing for heavy-duty applications. Reduction ratios include 1:1 and 1:2 with single output and dual output shafts.
All KHK right-angle gearboxes contain KHK stock bevel gears. The PBX economy series uses stock carbon steel bevel gears. The KBX medium duty boxes and the CBX heavy duty boxes use case hardened ally steel spiral bevel gears. Both PBX and KBX series are available as off-the-shelf products and are available for immediate delivery. The CBX units are assembled to order as size has 24 permutations of user defined input locations and rotations.
Right Angle gearboxes transmit motion between two shafts at 90 degrees. Their purpose is to redirect motion and where required, reduce the speed. When set to 1:1, right angle gearboxes will change the direction of rotation and rotate the power transmission 90 degrees. We set to 1:2, right-angle gearboxes will not only change the direct of rotation and rotate the power 90 degrees, it will also reduce the output speed to one half of the input speed while increasing the output torque to twice the input torque value.
For more information on KHK Gearboxes, please visit: www.khkgears.us/products/gear-boxes
###
About KHK USA Inc.
KHK USA, based in Mineola, New York, is a wholly owned subsidiary of Kohara Gear Industry. KHK USA is a factory direct, full-service distributor of KHK gears with a large selection of product available off-the-shelf to meet your gearing needs. On staff application engineers assist customers with a wide selection of gears for their design and can produce customer gear quotations.
Featured Product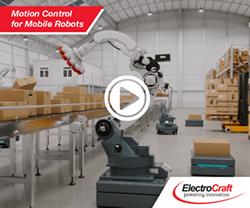 ElectroCraft is showcasing its award-winning mobile robot technology including their powerful and compact wheel drives, high-torque-density brushless DC motors, precision linear actuators as well as servo motor drive technology at a variety of conferences and tradeshows including the Boston Robotics Summit. Robotics Summit is the premier symposium for the sharing of ideas, technology, and market developments for robotic technologies across industries. Beyond a showcase and pitch of product, ElectroCraft is eager to participate in the collaborative discussion of challenges and opportunities that will shape the near and long-term robotic marketplace.