As an increasing number of industries embrace automation, vibratory feeders are becoming more widely used. They offer a quicker and more effective alternative to manual feeding, but can be inflexible and complex to incorporate into existing systems.
As an increasing number of industries embrace automation, vibratory feeders are becoming more widely used. They offer a quicker and more effective alternative to manual feeding, but can be inflexible and complex to incorporate into existing systems. To improve on this, EPF automation has developed the Supata®, an integrated flexible feeding module. The system, which comes equipped with a Shibaura Machine, formerly Toshiba Machine robot, will be available through TM Robotics on the American market. Here, Nigel Smith, CEO at TM Robotics, explains how the Supata® can optimise feeding processes in manufacturing.

Vibratory feeders are used to align and feed small products and parts during the assembly and production process using gravity and vibrations. They are a common element of many operations and an effective way of automating production lines. However, they are notorious for being unreliable and rigid and lacking the flexibility needed for an agile and adaptable production line.
To address the limitations found in standalone vibratory feeders, EPF engineering has developed the Supata® system. The Supata® is a fully realised robotic solution, suitable for use in any industrial production setting. Its unique features mean it is ideal for manufacturing and production in the automotive, technical, medical and electronics industries, where precision and speed is invaluable.
The Supata® consists of a feeding system, a vision system, a robotic handling system, and a control system (HMI). It has been designed for manipulating and singularising products and components for quick and precise assembly. Its vibratory Smart Feeder system, made up of a vibrating table and a hopper, allows it to handle components of various sizes, shape or material, ranging from less than 10 mm to over 250 mm in size and 25 - 350 g in weight. This gives it versatility when integrating the Supata® into new or existing production lines.
The machine comes with a vision system with artificial intelligence (AI) for accurate recognition and high precision. With this technology, algorithms are able to identify and locate components on the vibratory plane using a camera, and pass coordinates on to the robot for picking.
The software is straightforward for reconfiguring changes in production and has integrated quality control for whatever components are handled, making it able to adapt to operator requirements. The AI can also reduce the number errors, increasing productivity by 17 to 20 per cent.
The Supata® comes equipped with a Shibaura Machine robot as its handling system. Users can customise this by choosing six-axis, SCARA, or collaborative robots depending on their requirements. Both SCARA and six-axis robots are ideal for pick-and-place applications due to their large range of movement and high precision, and in the Supata® the robot can place components wherever required by the operator. SCARA robots can work at high speeds on four axes and are suited to small scale applications requiring accuracy and precision. Six-axis robots have superior directional control thanks to their articulation and movement on two additional axes and are capable of advanced movement profiles and intricate processes. Operators have control over which robot best suits their specific needs.
The control and monitoring system (CMS) is an integral part of the Supata® system. Run using edge-computing technology, the machine has been developed Industry 4.0. The CMS also allows remote connection so that operators can monitor machine function from any location for access and analysis.
In terms of physical integration, the Supata® can be configured to fit into existing workshops and production lines with ease. The chassis is tough and durable, to withstand long-term use in an industrial environment and minimise the risk of damage. Moreover, it is available in different designs and sizes. Buyers can choose a fixed structure, or a versatile mobile chassis with various docking stations to meet different needs.
A key advantage of a full integrated solution is the ability to maintain a constant cycle time, with the potential to reach one part per second. The easily configurable system can also handle a huge range of materials and geometries and operates from a single interface, making it a simple and user-friendly system that is easy to adapt to a range of applications.
An important feature of Supata® is that it is a fully engineered system. Many other suppliers can provide single components, but this is much more complex to incorporate into existing assembly lines. By supplying a modular station containing a complete solution, this is much more straightforward to integrate into new and existing lines.
Modern manufacturing can be fluid, with frequent changes to products or formulations, and equipment should be as agile as possible to facilitate this. Supata® can be used to produce small batches with frequent changes and is fully configurable depending on application. The straightforward, plug-and-play system is always ready to manage new products of different types from a single interface, and its AI algorithms can reduce costly errors and improve turnover significantly.
For operations requiring vibratory feeding, equipment able to keep up with the demands of Industry 4.0 is more important than ever. Choosing an integrated and innovative solution can not only improve productivity and cut costs, but can help to create an agile and futureproof line.
Featured Product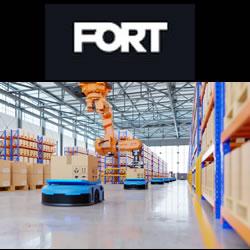 Machine safety and security are two critical components of any industrial operation. Our latest video explores this question and provides insights into how security measures can enhance machine safety. Nivedita Ojha, VP of Product at FORT, breaks down the key considerations when it comes to securing your machines and keeping your workers safe, explaining why there is no safety without security.