● Olis Connect will be the first plug-and-play remote monitoring and error recovery solution for ABB robots. ● The live demonstration featuring ABB's GoFa collaborative robot will take place at the Automate show, June 6-9, 2022, in Detroit ● Drop by for a visit and meet Olis Robotics at Booth #1544 and ABB at Booth #1832
Seattle, Washington, June 3, 2022 - Olis Robotics, a leader in remote robotic monitoring and control, will unveil its groundbreaking Olis® Connect remote error recovery solution for ABB robots at the Automate show on June 6, 2022.

Olis Connect is the first plug-and-play platform for remote monitoring and teleoperation of industrial robots. Real-time video feeds, video-based email notifications, and the ability to control the robot directly in a browser make Olis Connect the perfect solution for lights out manufacturing and unattended production.
The live demonstration will show attendees how operators can use Olis Connect to remotely monitor ABB's GoFa™ CRB 15000, the company's latest entry to its line of collaborative robots (cobot). GoFa is a six-axis cobot designed to enhance productivity while moving heavier payloads. With a reach of 950mm and speeds up to 2.2 meters-per-second, GoFa is an excellent option for applications including material handling, machine tending, component assembly, packaging, and inspection.
"We are excited to offer Olis Connect to users of ABB's collaborative and industrial robots," says Fredrik Ryden, CEO of Olis Robotics." Given crushing labor shortages combined with concerns about resiliency and scalability of supply chains, the opportunity for a product like ours is excellent," he adds.
Olis Connect remote error recovery allows manufacturers to unlock the true value of lights out manufacturing and unattended production, helping companies get the most out of their teams while achieving aggressive ROI from their capital investments.
To learn more about Olis Robotics and Olis Connect, visit https://olisrobotics.com/products.
About Olis Robotics
The company is a spinoff from the University of Washington and is located in Seattle's Fremont neighborhood. The innovative industrial telerobotic solutions of Olis Robotics are the result of R&D with the US Navy and NASA. Olis Robotics has taken this technology developed for challenging remote robot operation environments and optimized it for industrial automation applications. For more information, visit https://olisrobotics.com.
About ABB Robotics & Discrete Automation
ABB Robotics & Discrete Automation is a pioneer in robotics, machine automation and digital services, providing innovative solutions for a diverse range of industries, from automotive to electronics to logistics. As one of the world's leading robotics and machine automation suppliers, we have shipped more than 500,000 robot solutions. We help our customers of all sizes to increase productivity, flexibility and simplicity and to improve output quality. We support their transition towards the connected and collaborative factory of the future. ABB Robotics & Discrete Automation employs more than 11,000 people at over 100 locations in more than 53 countries. go.abb/robotics
Featured Product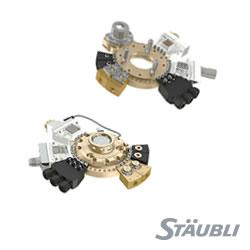 Stäubli is a pioneer in the construction and development of robotic tool changing systems. Our customers benefit from our many years of expertise in all industry sectors, as well as our modular product concept, which offers three efficient solution paths: MPS COMPLETE offers preconfigured robotic tool changers for immediate use. MPS MODULAR allows the user to determine the configuration, while MPS CUSTOMIZED allows the construction of special, application-specific systems.