Leading robotics matchmaking platform announces new leasing option to bring industrial robot automation to the masses.
The world's first digital robot hub, HowToRobot, today announced their partnership with leading automation financing company River Capital Finance. This partnership creates the first robot-leasing service covering the entire U.S. market, making automation more affordable for businesses of all sizes.

"Our mission at HowToRobot is to make robots accessible," says Søren Peters, CEO of HowToRobot. "By partnering with River Capital Finance for leasing, we're opening up the market to everyone: allowing businesses of any size to lease any kind of robot."
While the demand for robots is higher than ever, cost remains a major obstacle to further robot adoption. According to a study by the Massachusetts Institute of Technology (MIT), businesses repeatedly cite the high costs of the robotic equipment as well as its integration into the production line as a challenge.
With this new leasing service, U.S.-based companies avoid the initial investment and pay a monthly rate much lower than the cost of renting the equipment. A robot of $130,000 could cost $2,549 a month in leasing (or $16 an hour) with integration costs included.
"We are thrilled to offer HowToRobot's customers a low-cost option that allows them to take that first step into the right robotics solution," said Mike Jones, Senior Vice President of River Capital Finance. "HowToRobot was already fulfilling a huge need in the market by helping their customers select the right solution and matching them with the right provider as they start or continue their journey in robotics. Providing them an affordable option is the perfect next step to bring robotics to the masses."
How It Works:
U.S.-based businesses can apply for 36- or 60-month leasing on robot purchases. The flat monthly rate includes the cost of the robotic solution, integration, training and more. Various lease options allow businesses to own, purchase, renew, or exchange equipment at the end of the lease term. Businesses can apply via HowToRobot, with River Capital Finance providing the financing.
###
About HowToRobot
HowToRobot is the world's leading matchmaking platform for robotic automation, connecting businesses with over 16,000 robot and automation suppliers globally (over 1,100 in the US) and a range of services for quotes on robots, leasing options and much more. Learn more at www.HowToRobot.com.
About River Capital Finance
River Capital Finance is a leading automation financing company that makes hardware and equipment more accessible through fast, convenient leasing options. With numerous payment plans, term-end options and equipment return policies available, we make it easier and more affordable to leverage cutting-edge technologies and equipment.
Featured Product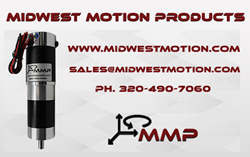 MMP specializes in supplying high-quality Brushed & Brushless DC Motors & Gearmotors for Robotics and Automation Equipment with a wide range of motor windings and gear ratios. With an impressive track record of more than 8,000 released DC Gearmotors designs and over 2,000,000 individual part numbers, we are renowned for our ability to handle large-scale orders. Due to our huge on-hand inventory, we are also well known for lightning-fast delivery of our standard products. We take pride in our dedicated customer service and our team of knowledgeable sales and engineering experts who are ready to assist you with custom design solutions tailored to your specific application. Additionally, we also offer a wide range of complimentary products, such as DC Motor Controls, DC Linear Actuators, AC-DC power Supplies, and DC Servo Amplifiers and others.