Companies can connect robots from different vendors to the cloud with a single click to improve operational efficiency
At A3's Automate trade show today, InOrbit launched the new InOrbit Connect™ certification program making it easier for companies to connect robots to the cloud. Companies deploying robots to improve internal processes can add one or hundreds of robots to their InOrbit account with one click. Robot buyers also have access to a free, comprehensive robot directory, including InOrbit Connect-certified robots. With a growing list of robotics companies, this will become an invaluable industry resource.

"Robots are the ultimate data-driven machines, yet it's still hard for people to get the right insights from their robots at the right time," said Florian Pestoni, co-founder and CEO of InOrbit. "With InOrbit Connect and the robot directory, we're able to reduce the friction for end-users, who just want their robots to do their job, and robot developers can now focus on addressing the specific needs their robots were designed for. They can each get the data they need, whether it's to drive operations, detect and resolve incidents, or make their product better."
InOrbit Connect is a first-of-its-kind certification program to help connect robot developers and end-users. It removes barriers to getting valuable, real-time robot operations data across vendors. The new program enables robot developers to gather data from all their robots in the field to drive continuous improvement. By connecting their robots to the cloud with a single click, end-users can access all critical operational data in one place regardless of vendor. InOrbit Connect makes this as easy as watching Netflix on a Smart TV.
"Through our work with InOrbit, we are getting critical operational data on our smart autonomous mobile robot, KIRA B 50," said Marco Cardinale, VP of Floor Care Solutions and Robotics at Kärcher. "With InOrbit Connect, our customers get the benefits of RobOps with minimum effort, gaining access to real-time, actionable insights that match their needs. As autonomous cleaning robots from Kärcher are deployed in environments such as warehouses and airports with other types of robots, InOrbit can provide an integrated view for maximum efficiency."
"We are thrilled to be part of InOrbit Connect and to be listed in the robot directory," said Lucas Jagodnik, CEO of Apelie Robotics. "As a startup in Argentina working on robotics solutions for specific local needs, we face many unique challenges. InOrbit Connect lets us offer our customers a complete solution for robot operations that's on par with or above what the largest robotics companies provide."
InOrbit offers free and paid editions of its scalable, cloud-based RobOps platform, making it accessible to everyone from early-stage startups to large enterprises. In combination with InOrbit Connect, the InOrbit platform provides a single pane of glass for operating diverse and growing fleets while keeping each part of the ecosystem focused on what it does best.
To learn more about InOrbit Connect and to start your robot certification, please visit - http://connect.inorbit.ai/
About InOrbit
Headquartered in Mountain View, California, InOrbit is the leading platform for RobOps at scale. The company is bridging the autonomy gap through its cloud-based, robot-agnostic data platform that enables robotics companies and enterprises to master the four O's of robot operations: observability, operation, orchestration and optimization. InOrbit's multi-cloud platform provides secure, real-time analytics and data collection, robot performance monitoring (RPM), incident response and root-cause analysis. For more information, please visit http://www.inorbit.ai.
Featured Product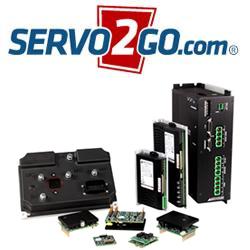 Engineered to drive brushless and brush servomotors in torque, velocity or position mode, Servo2Go.com offers a broad selection of servo drives in a wide range of input voltages and output power levels.