-Q1 of 2022 Marks All Time High In North American History -Strong recovery of worldwide robotics market
The North American robotics market experienced its best quarter ever to begin the year: Companies from the US, Canada and Mexico ordered 11,595 industrial robots - up 28% compared to the first quarter of 2021. Revenue rose by 43% and reached a value of USD 664 million. These results are in line with a positive trend worldwide: Preliminary data for 2021 show, that 486,700 industrial robots have been installed globally (+27% year-on-year).

"A strong recovery of the international robotics markets is currently in progress: Worldwide installations of industrial robots in 2021 even exceed the record year 2018," says Milton Guerry, President of the International Federation of Robotics (IFR). "In North America, first quarter order volumes for both units and revenue were at all-time highs. Across industries, the post-COVID crisis boom creates double-digit growth over the same quarter of last year."
Automotive orders up
In North America, car makers and manufacturers of components accounted for 47% of robot orders in Q1 2022, their orders grew by 15% year-on-year. Several car manufacturers have announced investments to further equip their factories for new electric drive car models or to increase capacity for battery production. These major projects will continue to create demand for industrial robots in the next few years.
Non-automotive sectors surpassed automotive
Continuing a trend, non-automotive customers have ordered more robots than automotive customers. Worldwide, the electrical & electronics industry is the strongest adopter with a record of 132,200 units installed in 2021. In North America, automotive customers orders in Q1 2022 were 5,476 units, while non-automotive customers ordered 6,122 units the same period. In seven out of the last nine quarters, orders from non-automotive customers surpassed orders from automotive customers.
How Robotics and Automation Are Transforming the North American Economy
A videocast will feature the IFR EXECUTIVE ROUNDTABLE at AUTOMATE 2022 trade show in Detroit with experts from FANUC America, Teradyne, UPS, Zebra and NVIDIA: (International Federation of Robotics (ifr.org).
FULL TEXT PRESS RELEASE available at: https://ifr.org/ifr-press-releases/
About IFR
www.ifr.org
Featured Product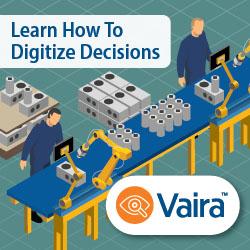 Pleora's Visual Inspection System helps operators detect errors and defects for unique component types, assembly steps, and custom low-run products where automated optical inspection (AOI) is too complex and expensive. The system helps DICA Electronics: Avoid costly, errors as a result of detecting errors at different phases in production, Speed time in detecting the root cause of the in-field errors with Tracking & Reporting apps for traceability, Maintain consistency in training new employees on requirements or with staff any time a new product is added, Easily train the system using 'good product' images for multiple product lines with no programming skills required, Reduce subjective decision-making, especially over a long shift, reducing error-escapes.