Featuring interactive demonstrations and next generation automation solutions, visitors to booth #1218 can get hands-on robot experience and chat with Flexiv's team of experts at North America's leading automation trade show.
Flexiv, a world-leading general-purpose robotics company, will bring its latest automation tech to the Automate Show in Detroit, Michigan, from the 6th to the 9th of June 2022.

Automate is the largest solutions-based exhibition of automation, robotics, vision, motion control and more in North America, featuring the full spectrum of automation technologies and solutions.
Flexiv will demonstrate the Rizon 4, Rizon 4s, and Rizon 10 performing flexible automation solutions using cutting-edge robotics and AI technologies. As a typical solution representative, the adaptive robot polishing shows the advanced force control capacity while following the complex curved surface in real time, which ensures great polishing quality, low costs, and maximized productivity.
By interacting with the novel robotic teleoperation demo developed by the newly released development kit Flexiv RDK, booth visitors can operate a robot at a distance, watch it mirrors their exact movements, and know more about the advantages of remotely controlled applications in scenarios of service, medical manipulation and hazardous work by communicating with the Flexiv team in site.
"This is the first time that Flexiv attends the Automate Show as an exhibitor. This exhibition offers a glimpse of the future, and we are ready to make that future a reality." Said Howard Huang, the Director of Sales and Business Development in North America.
"By participating in Automate 2022, we can present potential customers and partners in both manufacturing fields including 3C, automotive, new energy, etc, and emerging industries like healthcare, agriculture and R&D with versatile automation solutions to solve their unique challenges and create smarter production lines."
For more information about Automate 2022, please visit: https://www.automateshow.com/.
About Flexiv
Flexiv is a world-leading general-purpose robotics company focused on developing and manufacturing adaptive robots, integrating industrial-grade force control, computer vision and AI technologies. The company provides innovative turnkey solutions and services based on Flexiv robotic systems to customers in various industries.
For more information, please visit: https://www.flexiv.com/.
Featured Product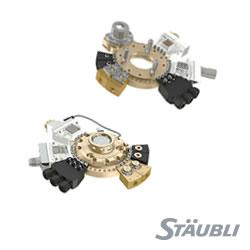 Stäubli is a pioneer in the construction and development of robotic tool changing systems. Our customers benefit from our many years of expertise in all industry sectors, as well as our modular product concept, which offers three efficient solution paths: MPS COMPLETE offers preconfigured robotic tool changers for immediate use. MPS MODULAR allows the user to determine the configuration, while MPS CUSTOMIZED allows the construction of special, application-specific systems.