THE800 and THE1000 set new standards for Shibaura Machine SCARA robots
Industrial robot manufacturer, Shibaura Machine has expanded its range of high-performance SCARA robots with two new models in its THE series. The latest robots, the THE800 and THE1000, offer high-performance, high-speed operation and a high load capacity of 20kg, ideal for applications that involve the assembly of heavy components. The new models will be sold in North, South and Central America by industrial robot supplier TM Robotics, Shibaura Machine's sales and service partner.

With an ability to offer a high cycle speed even at payloads of up to 20kg, the THE800 and THE1000 are an ideal choice for tasks involving heavier components. These models boast a cycle time of just 0.4 seconds with a 2kg load, with an impressive 8,400mm per second and 9,500 mm per second joint speed respectively. The maximum payload of the two models is 20kg, and they offer a reach of 800mm and 1000mm respectively.
These two new models expand upon the existing THE series, the gold-standard among Shibaura Machine's SCARA range in terms of accuracy, speed and price-to-performance. Prior to April 2020, Shibaura Machine was known as Toshiba Machine and has manufactured industrial robots for over 40 years. The THE series was built for high-throughput, high-speed assembly and inspection tasks, with a particular focus on the electronics industry.
An example of the range of applications for the two new SCARAs is the growing battery manufacturing industry. With the rapid increase in electric vehicle (EV) production, the THE800 and THE1000's features are intended to meet the challenges of EV battery manufacturing — like heavy lifting and accuracy.
The THE SCARA series is compatible with Shibaura Machine's TS5000 controller and TP5000 teach pendant. These control devices represent the launchpad for Shibaura Machine's next generation of industrial robots. The improved communication capabilities of the TS5000 enable Internet of Things (IoT) ready and fast data communication, while added programming languages make programming easier than ever. The TP5000, meanwhile, has been designed for ease of handling and operation, with an intuitive, touch-sensitive display panel with spilt screen display options.
"The launch of the THE800 and THE1000 is an exciting step forward for Shibaura Machine industrial robots," commented Nigel Smith, managing director of TM Robotics. "These accurate, high-performance robots, combined with the next-generation TS5000 and its cutting-edge communication capabilities, are a formidable automation solution. These models offer efficiency and quality, all leading to early return on investment."
For those wondering if the THE800 and THE1000 models are the right robots for their application, it is possible to book an online consultation with the TM Robotics automation experts, who are able to share the detailed specifications of these models and advise on the correct choice for a particular task or application.
To learn more about the Shibaura Machine SCARA range, go to www.tmrobotics.com
Featured Product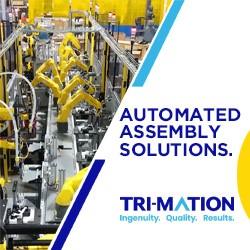 Tri-Mation reduces labor costs, improves accuracy, and production speed. Our integrators specialize in building automated assembly manufacturing systems for part production in any required volume or level of complexity.