The implementation of artificial intelligence (AI) improves the efficiency, effectiveness, and productivity of the supply chain. It improves the forecasting, provides better routes, and accurate insights, and enhances the delivery performance of the suppliers as well.
Managing a supply chain is becoming substantially more challenging day by day, increase in the customers' demands and expectations are putting immense pressure on the supply chain managers.

In recent years, the world has witnessed the evolution of technology and the astonishing ways it benefits businesses in every industry. Similarly, the evolution of technology has uplifted the supply chain and made it more efficient, optimized, effective, and productive like never before.
To achieve these magnificent changes AeoLogic Technologies is an IT company that is making the use of artificial intelligence (AI) to make some very impactful changes in the world of the supply chain.
Artificial Intelligence
Google, Facebook, Apple, and Microsoft are all moving ahead at a great speed in improving the artificial intelligence software. So it's very exciting as this software thinks like a human being in a more statistical way. Hence, it'll is gonna solve that problem where it'll look at all the new information and present it to you, knowing about your interests and what will be most valuable for the business. Undoubtedly the implementation of artificial intelligence (AI) will make the workflow more efficient and productive
Supply Chain Management
A supply chain is a process of taking an item from raw materials into a finished product, and there are a lot of middlemen involved along the way. Supply chain management is one of the most complex management out of all. The reason behind this is supply chain involves a lot of different variables and challenges at each stage of the transition.
The challenges that the supply chain faces on daily basis are lack of proper communication between various parties, lack of quality assurance, manual analysis of insights, unforeseen climate changes, and lack of information to the customers are few of the many challenges that supply chain used to face before the implementation of artificial intelligence (AI).
Artificial Intelligence Improving Supply Chain Management
To deliver the best-personalized customer experiences, businesses must understand how their consumers think and behave. In order to achieve this, the implementation of artificial intelligence (AI) technology is a must. One of the most interesting things that are happening is demand forecasting is becoming extremely precise through AI. Previously forecasting was precise too but nowhere as precise as it is done by artificial intelligence (AI). This is extremely beneficial for businesses because it helps them to manage their inventory and use their finances wisely.
Another way businesses are getting benefiting through the implementation of artificial intelligence (AI) is that the freight/shipping costs have been reduced. Through AI one can figure out the optimal routes and also they can decide with which freight companies they should be working with. AI also assists the supplier and gives them valuable information that will improve the delivery performance and minimize supply address.
Every logistical challenge from transportation, traffic management, food and beverage provisions, sanitation, sales, supply chain, and many more things needs to be addressed on-site in real-time. All of these challenges get overlooked by the implementation of artificial intelligence (AI).
To Conclude
Above mentioned artificial intelligence is one of the advanced technology we have in this modern era. In today's world of the supply chain, both the business owners and the consumers want the delivery of their products fast, accurate, and getting the information about the shipments in real-time. This real-time tracking system gets enabled by the implementation of artificial intelligence.
To excel in the supply chain industry the implementation of artificial intelligence (AI) has undoubtedly become necessary as it gives plenty of benefits. This will optimize the productivity of supply chain management phenomenally.
Featured Product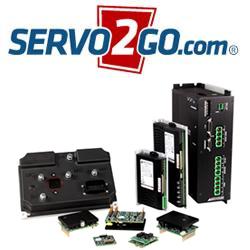 Engineered to drive brushless and brush servomotors in torque, velocity or position mode, Servo2Go.com offers a broad selection of servo drives in a wide range of input voltages and output power levels.