Michel Spruijt, formerly Brain Corp's SVP of International Business, will lead Brain Corp's global commercial strategy
Brain Corp announced it has appointed Michel Spruijt as its Chief Revenue Officer.

As part of his new role, Spruijt will lead Brain Corp's global commercial strategy, sales, business development, and customer success teams in North America, Europe and new and emerging markets. He will be responsible for developing and executing Brain Corp's sales channel and partner strategy in order to build on the Company's existing fleet of over 20,000 BrainOS® powered robots deployed in public spaces.
"Michel has proven himself to be an exceptional leader, building a high-performing European team which has delivered significant growth across the continent," said David Pinn, CEO of Brain Corp. "We're very excited to have him take an even more expansive role in driving the Company's growth by focusing on revenue generation and global expansion."
Based in the Netherlands, Spruijt has successfully driven the European commercial growth strategy for Brain Corp since 2019, helping it become the Company's leading region for growth. Under his tenure, he has been responsible for several major milestones, including Brain Corp's BrainOS®-powered fleet of autonomous mobile robots hitting 500 million square feet covered (46.45 million square meters) autonomously in Europe alone and seeing significant international expansion, recently announcing 100% year-on-year growth in Europe. Prior to joining Brain Corp, Spruijt held the position of General Manager EMEA at Ergotron. During his 20-year tenure, Spruijt successfully built cross-functional teams and managed Ergotron's growth trajectory in EMEA. He held several other roles at Ergotron, including management positions in Business Development, Sales, Operations, Customer Care, Technical Support and Business Operations.
"I see Brain Corp as being very much at the center of a revolution in workplace automation," commented Michel Spruijt. "Globally, businesses are experiencing painful disruptions as a result of faltering supply chains and worker shortages. Turning to automated robotics is no longer being seen as an impediment to human workforces but as a way to support teams, free up workers from tedious or dangerous tasks and to create sustainable operations that are robust even in times of heavy disruption. I'm extremely excited by Brain Corp's potential to become the defacto partner for leaders across multiple industry sectors as they bring automated robotics into their operations."
This announcement comes on the heels of the Company's appointment of David Pinn as CEO, further strengthening its focus on commercial execution and revenue growth.
Featured Product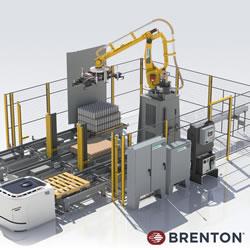 Brenton is a leader in robotic solutions with standard product offerings including palletizing and depalletizing for efficient an option for carrying hard-to-handle products, as well as larger scale systems with an optimized footprint; and case and carton loading solutions for numerous industries. In addition, Brenton works with customers on integrated solutions, offering robotics in a broad spectrum of robotics to fully integrate end of line systems. Brenton helps packaging customers protect their reputation and grow the trust of their consumers.