Addition of the M3000 completes Brenton's portfolio of case packers, giving customers multiple options to best meet their packaging needs
ALEXANDRIA, Minn., August 23, 2022 - Brenton is launching a new continuous motion side-load case packer aimed at CPQ customers looking to pack between 30 and 50 cases per minute. Plan to see the M3000 demonstrating its capabilities in booth N-5546 at PACK EXPO 2022, Oct. 23-26 at McCormick Place in Chicago. Brenton is a leader in designing and manufacturing integrated end-of-line packaging systems and machines, specializing in case packing and palletizing using both robotics and other automation.

The M3000 Case Packer is designed to fill a need for mid-range manufacturers of packaged personal care and food products to pack up to 50 wrap-around or tray-style cases per minute. The machine features Brenton's standard servo-driven changeover assist design for faster, more consistent changeovers in 15 minutes or less with minimal manual adjustments.
The M3000 utilizes Beckhoff XTS Track technology that reduces the footprint needed for the machine. This linear transport system allows the case to dwell in some stations longer than others, resulting in a smaller footprint with a higher case output rate. The intuitive HMI features two-touch navigation for commonly used functions, and the open access design allows for easy maintenance to decrease downtime.
The addition of the M3000 completes Brenton's side-load case packing portfolio, joining the M2000 (up to 35 cases per minute) and the M4000 (up to 85 cases per minute) in providing the right solution to specific customer applications.
The M3000 will be in action at PACK EXPO packing plastic bottles of wet wipes. Show attendees will also see Brenton's redesigned MP1000 Robotic Bulk Palletizing / Depalletizing End of Arm Tool that can pick up full layers of product at one time.
A great time-saving solution for a variety of industries, including plastic container manufacturers, the MP1000 provides consistent tight layer grids of palletized and depalletized product through cradle and place technology that combines a servo-operated rotary tool and slat system to gently handle full layers of product weighing up to 500 pounds with each motion. Cradle and place technology outperforms traditional roller or vacuum pick and place systems, which can leave trays behind or fail to handle certain bulk items.
The MP1000 is the ideal solution for palletizing and depalletizing applications for empty or full bulk items, bags, cans, bottles, or irregular-shaped packs. It also works well for handling cases, open or sealed cases, trays, display packs and bundles.
To see both the M3000 Case Packer and the MP1000 Robotic Bulk Palletizing / Depalletizing End of Arm Tool in action, visit booth N-5546 at PACK EXPO 2022. For more information, log onto https://www.brentonengineering.com/.
###
About Brenton
Brenton engineers and manufactures custom case packaging, palletizing, robotic packaging systems including material handling, high speed pick and place, and integrated end-of-line systems. Specializing in food, beverage, pharmaceutical, medical device, personal care, and household products, Brenton surpasses regulatory and market driven demands and creates collaborative, long-standing partnerships to best serve a diverse customer base. Brenton is a product brand of ProMach, a global leader in packaging line solutions. As part of the ProMach End of Line business line, Brenton helps packaging customers protect and grow the reputation and trust of their consumers. ProMach is performance, and the proof is in every package. Learn more about Brenton at www.BrentonEngineering.com.
About ProMach
ProMach is a family of best-in-class packaging solution brands serving manufacturers of all sizes and geographies in the food, beverage, pharmaceutical, personal care, and household and industrial goods industries. ProMach brands operate across the entire packaging spectrum: filling and capping, flexibles, pharma, product handling, labeling and coding, and end of line. ProMach also provides Performance Services, including integrated solutions, design/build, engineering services, and productivity software to optimize packaging line design and deliver maximum uptime.
ProMach designs, manufactures, integrates, and supports the most sophisticated and advanced packaging solutions in the global marketplace. Its diverse customer base, from Fortune 500 companies to smaller, privately held businesses worldwide, depends on reliable, flexible, technologically advanced equipment and integrated solutions. ProMach is headquartered near Cincinnati, Ohio, with manufacturing facilities and offices throughout the United States, Canada, Mexico, Brazil, Europe, United Arab Emirates, and China. For more information about ProMach, visit www.ProMachBuilt.com.
Featured Product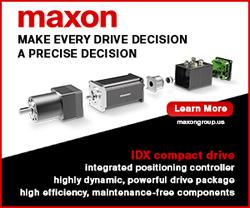 The compact brushless EC-i motor combined with an EPOS4 positioning controller delivers a highly dynamic, powerful drive package with field-oriented control (FOC), high efficiency, and maintenance-free components in a high-quality industrial housing. The maxon IDX drives are suitable for use across the entire speed range (from standstill to maximum speed) and have an extremely high overload capability. Together with a positioning controller, the integrated sensor (single turn) enables absolute positioning.