HAI ROBOTICS Japan and Gaussy Inc. signed a distribution agreement and will exhibit the comprehensive "Roboware" solution at Logis-Tech Tokyo 2022.
HAI ROBOTICS Japan and Gaussy Inc. signed a distribution agreement in August 2022 to promote the HAIPICK ACR series in Japan. The collaboration will adopt HAIPICK A42N as a robot subscription service "Roboware" provided by Gaussy, including warehouse solutions provided by both companies. The two companies are planning to conduct various joint demonstration activities. This time the two companies will exhibit the comprehensive "Roboware" solution at "Logis-Tech Tokyo 2022" and demonstrate the benefits of "HAIPICK A42N."

The "HAIPICK A42N" enables accurate picking and transport through advanced and accurate navigation. It is also compatible with multi-size cases such as 160cm size and realizes mixed picking of cartons/totes. It allows a wide range of picking heights from 1m to 5.53m high, it uses 3D visual recognition technology to identify cases increasing the efficiency of picking and realizing high-density storage.
Joint exhibition solutions
HAIPICK ACR system "HAIPICK A42N" Demo: The ACR robot was independently developed by HAI ROBOTICS. It supports mixing picking of cartons/totes, such as cases of 160cm in size, larger than the standard, and increases the efficiency of picking. It also realizes high-density storage. The HAIPICK ACR system is one of HAI ROBOTICS' main products and has been implemented across a large number of projects. Currently, the company has implemented more than 500 projects worldwide.
Gaussy exhibition booth: The company will exhibit its Warehouse robot subscription service "Roboware." In addition to that, visitors will have the chance to see the Three-dimensional Sorting Robot "Omni Sorter," the Shelf Transfer Robot "Ranger GTP," the Pallet Transport Robot "Ranger IL," the Autonomous Robot "FlexComet/FlexSwift," and two Sharing-type Warehouse Service "WareX.."
About the exhibition
Event name: Logis-Tech Tokyo 2022
Date: Tuesday, September 13 - Friday, September 16, 2022, 10:00 - 17:00
Venue: Tokyo Big Sight (Tokyo International Exhibition Center) East Halls 1-8
Booth No.: East Hall 5 Booth 5-502 Display Name "Gaussy Co., Ltd."
Click here for pre-registration
About HAI ROBOTICS JAPAN, Inc.
Founded in 2016 in Shenzhen, China, HAI ROBOTICS is the pioneer and leader in Autonomous Case-handling Robot (ACR) systems. The company provides efficient, intelligent, flexible and customized warehouse automation solutions through robotics technology and AI algorithms. Since its establishment, it has grown rapidly by incorporating global needs and providing a comprehensive ACR system developed in-house. The company was ranked in the "Unicorn Ranking List" of Hu Run Research Institute in December 2021. HAI ROBOTICS now has more than 500 projects globally and offices in the U.S., Europe, Japan, Southeast Asia, Australia, Hong Kong and Taiwan, serving customers from more than 30 countries and regions.
HAI ROBOTICS JAPAN Co., Ltd., was established in 2021 in Japan as a subsidiary of HAI ROBOTICS Co., Ltd., and promotes automation and DX in the logistics and manufacturing industry through one-stop services from the introduction of ACR systems to operational support. Aiming to do business activities specialized in the Japanese market. HAI ROBOTICS Japan Technical Center was opened in March 2022 to demonstrate and simulate ACR products and solutions.
About Gaussy Inc.
With the vision of "Logistics gets you there," Gaussy will provide new options for businesses by building a system that can flexibly respond to changes in warehouse needs and cargo volume. Gaussy offers two services: "Roboware," a subscription-type monthly warehouse robot service that allows anyone to easily operate a warehouse using robots, and "WareX," a sharing warehouse service that allows anyone to easily use vacant warehouse space.
Featured Product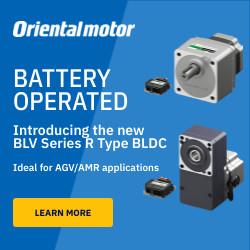 The BLV Series R Type brushless DC motor (BLDC motor) speed control system offers the design of motor and driver significantly reduced in size and weight, yet high-power, and contributes to the battery driven automation. The BLV Series R Type is compatible with the two interfaces of Modbus (RTU) and CANopen communication.