Photoneo introduces MotionCam-3D Color - a state-of-the-art blend of three key properties: highly accurate 3D data, the ability to scan in motion, and color. This game-changing combination opens the door to new automation possibilities and unprecedented machine vision applications.
Bratislava, Slovakia, 20 September 2022 — Photoneo, a leading provider of machine vision and smart automation, introduces a new version of its flagship 3D camera MotionCam-3D. The new MotionCam-3D Color brings a game-changing combination of highly accurate 3D data, the ability to scan in motion, and now adding color. This technology opens a lot of new possibilities for advanced automation including digital twining, VR, AR, AI, or the Metaverse.

Few features have been so much missed in the sector of industrial 3D vision and vision-guided robotics as the ability to capture dynamic scenes and create their colorful 3D point clouds in real-time and perfect quality. High-quality data consisting of depth information, color, and motion is critical for successful AI implementations and enables demanding robotic decision-making applications as well as new megatrends such as virtual and augmented reality, the Metaverse, or digital twinning.
"We believe that a perfect vision system needs to have 3 core properties," says Marcel Svec, VP of Strategy and Product at Photoneo. "First, it must provide high-quality 3D data, which is important for the recognition of an object's position and orientation in 3D space. Second, the vision system should be able to work in a dynamic environment and provide a continuous stream of 3D point clouds without making any pauses for scan acquisition. Third, the vision system should be able to capture color information and match it with the 3D output. This is a crucial feature for AI-based machine vision algorithms."
These three core properties on their own are not unique in the world of 3D vision - however, if you combine them in one single device, you get something special.
Svec continues: "We are seeing a huge boom in vision-guided robotics as more and more industries are turning to automation via advanced 3D sensors. The color feature was a missing puzzle piece in our complex technological portfolio. With this new device, we are offering a chance to explore and discover new opportunities for the improvement of existing processes, not only in heavy industries but literally everywhere. You want to scan dynamic scenes in high quality? You can; You want to determine the ripeness of fruit? Also possible; You're interested in picking and sorting color coded boxes? Sure, no problem. And this is just a tiny fraction of everything that you can achieve with our 3D vision."
MotionCam-3D Color is powered by Photoneo's patented Parallel Structured Light technology. Thanks to a special, proprietary CMOS image sensor, the technology enables high-quality 3D scanning of dynamic scenes without motion artifacts.
Special features of MotionCam-3D Color:
- Output data: Point cloud, Color texture, Normals, Depth map
- Color information is provided as an RGB image mapped on the 3D data with 1:1 pixel correspondence to the depth map or as a native RGB image with a resolution of up to 8 Mpx
- Area scanning of objects moving up to 144 km/h (no motion blur, in-depth data)
- Effective resistance to vibrations
- Unmatched resolution & accuracy:
- Dynamic mode: resolution of 0.9 Mpx, accuracy of 0.300 mm
- Static mode: resolution of 2 Mpx, accuracy of 0.150 mm
- High level of detail on edges
- Unrivaled scanning range from 36 cm up to 4 m thanks to 6 available models
- Lightweight and durable carbon body, IP65
- PoE or 24 V powering
- Easy setup, GenICam compatibility
- On-board processing
The distinctive properties of MotionCam-3D Color revolutionize 3D vision and open up completely new automation possibilities for any type of project. The new application areas include demanding AI-powered decision-making applications that are based on advanced recognition and inspection of objects as well as new visualization applications that require the creation of 3D models, such as digital twinning or the Metaverse.
Get more information here: https://www.photoneo.com/motioncam-3d/
Watch the video: https://www.youtube.com/watch?v=JX5OZcJApaM&feature=emb_logo
Contact Photoneo: sales@photoneo.com
Featured Product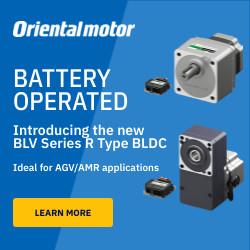 The BLV Series R Type brushless DC motor (BLDC motor) speed control system offers the design of motor and driver significantly reduced in size and weight, yet high-power, and contributes to the battery driven automation. The BLV Series R Type is compatible with the two interfaces of Modbus (RTU) and CANopen communication.