These Festo bionic robots appear as part of the 5th Annual Robot Block Party hosted by MassRobotics on Seaport Common.
ISLANDIA, NY, September 28, 2022 — Festo brings the company's flying robotic dragonfly and swift to Boston on Saturday, October 1, to celebrate RoboBoston - the MassRobotics sponsored 5th annual Robot Block Party. The public is invited to visit RoboBoston from 11 am to 4 pm at Seaport Common. Admission is free. More than 40 companies and universities will showcase their latest robotic technology at this family-oriented event.

The design of the Festo BionicOpter was inspired by the flight of the dragonfly. Like its natural role model, the ultra-light aircraft can move in all directions, hover on the spot, and sail without flapping its wings. The BionicOpter for the first time makes it possible for a single model to carry out more flight maneuvers than helicopters and motorized and non-motorized gliders combined.
Fashioned after the fast flying swift family of birds, the agile, maneuverable Festo BionicSwifts can fly loops and steep turns. The individual segments of the artificial feathers fan out during the wing upstroke, allowing air to flow through the wing. This means the birds need less power to propel the wing upwards. The segments then close during the downstroke so that the flying robots can fly more powerfully. By closely replicating the wings of an actual bird, the BionicSwifts feature a flight profile far superior to previous flapping wing drives.
The flights of the BionicOpter and BionicSwift are thrilling and not to be missed. Festo has been working intensively on bionics - the transfer of natural mechanisms and principles of action to technology - since the 1990s. The BionicOpter and BionicSwift are two of dozens of bionic robots developed by Festo. For more information visit www.festo.com/bionic.
Featured Product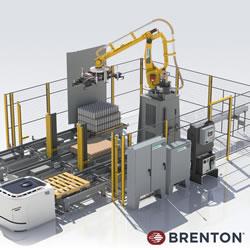 Brenton is a leader in robotic solutions with standard product offerings including palletizing and depalletizing for efficient an option for carrying hard-to-handle products, as well as larger scale systems with an optimized footprint; and case and carton loading solutions for numerous industries. In addition, Brenton works with customers on integrated solutions, offering robotics in a broad spectrum of robotics to fully integrate end of line systems. Brenton helps packaging customers protect their reputation and grow the trust of their consumers.