Industry-leading automation solutions provider Omron Automation Americas welcomes new partner TOA SE Inc, specializing in the design and integration of industrial controls and automation systems for both new and existing processes in all sectors of manufacturing, turning complex production goals into reality.
Omron Automation Americas recently announced TOA SE Inc, an automation solution provider in North America, as a new partner in its Certified Systems Integrator program. TOA SE's recent successful deployment of a complex SYSMAC Automation Controller solution at a Large Automotive Manufacturer confirmed their capabilities to support customer needs with Omron technologies. With their Engineering passion and expertise in complex machine design, they provide customers with a complete turn-key project including Multi-Axis Servo Motion using Omron SYSMAC controller. TOA SE's goal is to provide the experience and expertise to design and build custom machinery to realize customer's production goals

About the Omron Certified System Integrator program
The Omron Certified System Integrator program matches best-in-class solution providers with the technology, training and resources required to deliver innovative and competitive solutions. With the rapid growth in automation technologies, manufacturers and business partners strive to deliver open and secure Industry 4.0 solutions that support flexible manufacturing and deliver a competitive advantage. The combined strength of this relationship solves customer challenges today while enabling more efficient, fully integrated systems that will successfully weather future demands.
For Omron, systems integrators play a critical role in designing and delivering fully integrated automation solutions. They also possess industry and application expertise in implementing the latest technologies from Omron and providing turnkey system solutions. "Our certified system integrator program provides end users peace of mind when procuring automation solutions," says Peter Brouwer, Vice of Sales Omron Automation Americas. "These companies have proven expertise when it comes to implementing our latest technologies, and they have full access to local training and resources needed to successfully deliver fully integrated automation solutions."
About TOA SE Inc.
TOA SE proudly provides Industrial Controls, Factory Automation and Engineering Services, supported by an extensive international network of resources for over 60 years. Our diverse group of engineers and technicians equates to a team that pairs quality and safety with ingenuity and innovation.
TOA Electric USA, Inc. started in 2001 in Lexington, Kentucky with one goal in mind - to provide advanced manufacturing solutions through engineering excellence. In 2007, we renamed to TOA SE (Systems Engineering) and have since grown and expanded our capabilities to best serve the leading manufacturers in the region. We pride ourselves on our automation prowess and industry acclaimed service and support. The difference lies in our people and customer-first principles. From concept to confirmation, the TOA difference remains apparent.
About Omron Automation
Omron Automation is an industrial automation partner that creates, sells and services fully integrated automation solutions that include sensing, control, safety, vision, motion, robotics and more. Established in 1933 and currently headed by President Yoshihito Yamada, Omron's 30,000 employees help businesses solve problems with creativity in more than 110 countries. Learn more at automation.omron.com.
Featured Product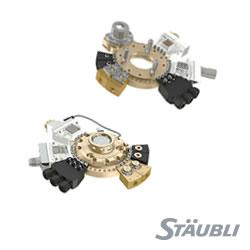 Stäubli is a pioneer in the construction and development of robotic tool changing systems. Our customers benefit from our many years of expertise in all industry sectors, as well as our modular product concept, which offers three efficient solution paths: MPS COMPLETE offers preconfigured robotic tool changers for immediate use. MPS MODULAR allows the user to determine the configuration, while MPS CUSTOMIZED allows the construction of special, application-specific systems.