The latest study collated and published by Nova one advisor analyzes the historical and present-day scenario of the global Robotics Technology industry to accurately gauge its growth potential. The study presents detailed information about important growth factors, restraints, future scopes, cost analysis and key trends during the forecast timeframe 2022 to 2030.
 According to Nova one advisor, the global Robotics Technology industry was valued at USD 79.5 billion in 2021 and it is expected to hit around USD 225.6 billion by 2030 with a CAGR of 12.29 % during the forecast period 2022 to 2030.

Request Free Sample of This Report@ https://www.novaoneadvisor.com/report/sample/7405
Key Takeaways:


By type, the traditional industrial robots segment has captured 52% market share in 2021.


By component, the hardware segment has hit 72% market share in 2021.


By application, the manufacturing segment has accounted 68% revenue share in 2021.


Asia Pacific region has reached highest revenue share 46% in 2021.


The field of robotics technology involves the fusion of technologies and engineering disciplines, such as mechanical engineering, computer science, electronics, and electrical engineering, to produce machines called robots that resemble human beings. An AI robot can mimic human behavior or be a robot application, like robotic process automation (RPA), which simulates how humans interact with software to accomplish repetitive, rules-based tasks. Robotics technology aims to create intelligent machines that enhance an organization's performance and produce better results.  New applications for service robots are being developed due to their numerous advantages, such as increased productivity, streamlined processes, and greater workplace safety. Furthermore, robotic technology allows for a reduction in operational costs and a high return on investment.
Immediate Delivery Available | Buy this Premium Research Report@ https://www.novaoneadvisor.com/report/checkout/7405
Robotics Technology Market Trends:
The market is majorly driven by the increasing adoption of robots in various end-use industries, such as automotive, manufacturing, food and beverage, and electronics. This can be attributed to the escalating demand for customized business operation solutions. Furthermore, the rapid adoption of robotics technology in telesurgery, parenteral nutrition and disabled patient care in the healthcare sector is resulting in a higher product update. Apart from this, the growing usage of robotics in military and defense sectors for monitoring, bomb dispersal, and mine detection is providing an impetus to the market. In line with this, a significant shift towards the implementation of artificial intelligence, machine learning, industrial internet of things (IIoT), and human-machine interface technology is impacting the market positively. Some of the other factors contributing to the market growth include continual developments in inventive, energy-efficient and cost-effective robots, rapid urbanization and industrialization, the widespread product adoption in SMEs, increasing penetration of high-speed internet, and extensive research and development (R&D) activities.
Segments Insight
Product Insights
The traditional industrial robots segment dominated the robotics technology market in 2021. The introduction of various types of production control techniques, as well as the implementation of automation solutions, are significant components of current production improvement plans. Furthermore, as industrial robots become more popular, they are being used in a variety of industries, including manufacturing and healthcare. Industrial robotics is a rapidly growing sector with applications in a wide range of industries.
The cobots segment is the fastest-growing segment of the robotics technology market in 2021. Collaborative robots, or cobots, are designed to assist humans in doing certain activities that are both sophisticated and precise. Humans and robots collaborate closely. The robots are capable of detecting odd activity in their environment and collaborating with humans without being physically separated. Cobots are more appealing to employ in factories and industries because of their smarter, smaller, more flexible, and user-friendly qualities. The need for Cobots is being driven by increased rivalry in numerous industries, as well as a greater focus on automation.
Application Insights
The healthcare segment dominated the robotics technology market in 2021. The robots in the healthcare sector assist with minimally invasive treatments, personalized and frequent monitoring for patients with chronic conditions, intelligent therapies, and social interaction for the elderly.
The logistics segment is the fastest growing segment of the robotics technology market in 2021. The robots in the logistics sector manage the storage and movement of items as they move through the supply chain. They're frequently used to arrange and transfer things in warehouses and storage facilities, a procedure known as intralogistics, but they can also be employed in other locations. Logistics robots have considerably higher uptime than manual labor, resulting in significant productivity and economic increases for businesses who use them.
Regional Insights
Asia-Pacificdominated the robotics technology market in 2021. China, South Korea, and India dominated the robotics technology market in Asia-Pacific region. The growth of robotics technology market in Asia-Pacific region is being driven by growing constant efforts by government towards the technological developments. Furthermore, the Housing Development Board at Singapore, plans to use autonomous drones or robots to identify which areas of public housing blocks need to be cleaned. The main goal is to save water by cleaning only the dirty areas. In addition, market players are adopting various strategies, which is boosting the growth of Asia-Pacific robotics technology market. The Adibot robotic disinfection system combines Ubtech's robotics and artificial intelligence with UV-C technology to disinfect specific surfaces and air by destroying the DNA and RNA of hazardous microorganisms.
Europe, on the other hand, is expected to develop at the fastest rate during the forecast period. The UK dominates the robotics technology market in Europe region. Educational robots, industrial robots, interactive entertainment robots, and service robots have all seen increased demand in recent years in Europe. Denmark, Germany, Sweden, and Italy are the top European countries where industrial robots are widely used. The European regional market is growing as a result of the rising usage of robots in both the industrial and domestic sectors. The region's regional market is being driven by advanced expansion and the development of cutting-edge robotics technology.
Some of the prominent players in the Robotics Technology Market include:
Universal Robots A/S, Boston Dynamics, Northrop Grumman Corporation, Omron Corporation, Fanuc Corporation, KUKA AG, Yaskawa Electric Corporation, DENSO, orporation, iRobot Corporation, Nachi-Fujikoshi Corp., Kawasaki Heavy Industries, Ltd., Honda Motor Co. Ltd., ABB Group, Sony Corporation, Mitsubishi Electric Corporation
Full Report is Ready | For Purchase Inquiry@ https://www.novaoneadvisor.com/report/checkout/7405
You can place an order or ask any questions, please feel free to
sales@novaoneadvisor.com
| +1 9197 992 333
Featured Product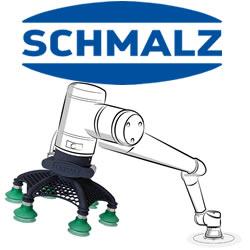 In order to interact with their environment and perform the tasks, lightweight robots, like all industrial robots, depend on tools - and in many cases these are vacuum grippers. These form the interface to the workpiece and are therefore a decisive part of the overall system. With their help, the robots can pick up, move, position, process, sort, stack and deposit a wide variety of goods and components. Vacuum gripping systems allow particularly gentle handling of workpieces, a compact and space-saving system design and gripping from above. Precisely because the object does not have to be gripped, the vacuum suction cupenables gapless positioning next to each other.