Sophisticated piezoceramic components and subsystems with new piezo transducer offerings for sensing and ultrasound applications.
PI Ceramic, a subsidiary of precision motion control specialist PI (Physik Instrumente), celebrates its 30th anniversary in 2022 and continues to provide world-class standard and miniaturized piezoceramic components such as piezo rings, piezo benders, micro piezo tubes, micro disks, and shear transducer plates. Piezo components are critical for markets such as 3D printing, digital printing, medical engineering, and industrial automation. Founded in 1992 as a subsidiary of PI (Physik Instrumente), PI Ceramic (PIC) was started with a handful of employees - all experts in the field of piezoceramic and dielectric materials - who brought with them decades of research, design, and production experience.

Continuous Growth, 3rd Expansion
Only two years after inception, the PI Ceramic team moved to a new building specifically designed for their needs. Due to the continuous global demand for the high-performance piezoceramic transducers, actuators, and motors designed and manufactured at PIC, the company kept growing and the facilities had to be extended several times since its founding. The most recent expansion in 2020 added more than 80,000 square feet of manufacturing and office space.
Compact Piezo Actuators that Survive 100 Billion Cycles Without Failures - Good Enough for NASA
In the early 2000's, PIC developed a new type of piezo material and process for multilayer piezo actuator production. Based on several novel ideas, PIC's patented, ceramic-encapsulated actuators can provide significantly longer service life than conventional polymer coated piezoelectric actuators. In a long-term test for the Mars Mission, NASA tested several actuator types to find the toughest ones with the highest performance. PI Ceramic's PICMA® actuators had passed 100 Billion Cycles of life tests without failure and degradation and got selected.
Lead-Free Piezoceramic Materials for Future Applications and Markets
PI Ceramic's competency in acoustic designs including piezo transducer spheres and hemisphere and the portfolio for ultrasonic applications will continue to expand. PI Ceramic's material specialists have already invested in intensive research and started to produce lead-free piezoceramic and composite transducers for new markets.
Featured Product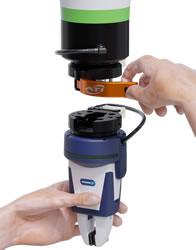 Simpler, stronger, and more precise. ATI Industrial Automation has developed a series of Manual Tool Changers that provides a cost-effective solution for quickly changing tools by hand. They feature a unique design that combines high strength, excellent repeatability, and a patent-pending screw-cam locking mechanism with multiple fail-safe features, which resists vibration and prevents loosening. These robust and compact Manual Tool Changers can handle payloads up to 80 pounds (36 kg) and pass pneumatics and electrical signals.