High Reliability Sensor System for Fast Steering Mirror Control
Middletown, CT - The Measuring Division of Kaman Precision Products, Inc., the world leader in the design and manufacture of high-performance position measurement systems, highlights the availability of its KD-5100+ high reliability differential displacement measurement system, with nanometer resolution. With its stable design, extremely small size, and low power consumption, the KD-5100+ is ideal for laser communications satellites and ground stations, image stabilization systems, and directed energy systems for ground, shipboard and airborne applications.

The KD-5100+ is an upgraded, higher reliability version of Kaman's proven KD-5100 measuring system and utilizes the identical proprietary hybrid microcircuit. The KD-5100+ incorporates upgrades to the circuit layout, ground connections, and sensor connectors, and adds higher reliability diodes and capacitors.
Featuring a small package size - only 2 x 2.12 x 0.75 inches thick - the KD-5100+ is an ideal solution for meeting SWaP-C requirements. It is manufactured to Mil-PRF-38534 Class H, with MIL-SPEC components used throughout the electronics. The KD-5100+ features a mean time between failures exceeding 238,000 hours in a space flight environment and 55,000 hours in a tactical environment. Kaman also offers the DIT-5200, a commercial version of the KD-5100+ for applications where mil-spec requirements, size, weight and power consumption are less critical.
The KD-5100+ team of experts has a combined total of more than 100 years of application, design and engineering experience. Focused on solving customers' measurement problems, the team is backed by an established aerospace company that has been an industry leader for more than 70 years. The Measuring Division of Kaman Precision Products follows rigorous aerospace quality systems and is certified to AS9100 and ISO 9001 while featuring a class 100 clean room.
For more information about the KD-5100+ differential measurement system, visit https://www.kamansensors.com/product/kd-5100-plus/ or to learn about Kaman Measuring products, visit http://www.kamansensors.com.
About Kaman Precision Products Measurement Division
Kaman Precision Products Measurement Division is a worldwide leader in the design and production of high-performance, precision non-contact position measuring systems using inductive, Eddy current technology. Recognizing that each customer has specific individual requirements, Kaman consults with customers to help choose the best sensor, conditioning electronics, and calibration for each application. With more than 40 years of experience, our advanced family of high-precision position sensors is used in hundreds of applications in aerospace, automotive, energy, metals production, metalworking industries, and many others.
Part of Kaman Corporation of Bloomfield, Connecticut, we design and manufacture our products at a state of the art production facility that meets AS9100/B and ISO 9001:2000 quality management system requirements.
For more information call 800-552-6267, email measuring@kaman.com or go to www.kamansensors.com
Featured Product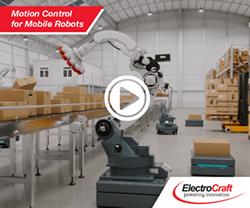 ElectroCraft is showcasing its award-winning mobile robot technology including their powerful and compact wheel drives, high-torque-density brushless DC motors, precision linear actuators as well as servo motor drive technology at a variety of conferences and tradeshows including the Boston Robotics Summit. Robotics Summit is the premier symposium for the sharing of ideas, technology, and market developments for robotic technologies across industries. Beyond a showcase and pitch of product, ElectroCraft is eager to participate in the collaborative discussion of challenges and opportunities that will shape the near and long-term robotic marketplace.