Intuitive, intelligent, interactive system combines process control, monitoring, and quality analysis
AMADA WELD TECH EUROPE highlights its industry-leading AWS3 Servo Motorised Active Resistance Welding System. The unique system combines the IS-Q inverter power supply with FM series of motorised weld heads, motorised weld pincers, or compacting units.

This integrated solution provides process control, monitoring, and quality analysis in one premium system that enables parameters to be set quickly and precisely. With high stiffness, high speed, electrode impact sensitivity, and exact electrode position control, this cleanroom-proof system can serve in a variety of industry applications. These include electronics, medical engineering, and automotive applications, to name a few.
Operators will find the system intuitive, intelligent, and highly interactive. The operating panel is distinguished by its ease-of-use, with a single knob operation to push and turn and a touch screen also available. The multilingual user interface and operating concept are both also incredibly intuitive, with an intelligent design, status line, menu bar, and interactive user guide.
The AWS3 Servo Motorised System comes in basic and advanced options. Static monitoring, remote service capabilities, ethernet communication, force and speed control, and measurement for force or displacement are all available in the basic version. The advanced version also includes additional dynamic process motoring and offers graphical waveform, SPC, and CAN open, and options for profibus or Ethernet/IP.
Featured Product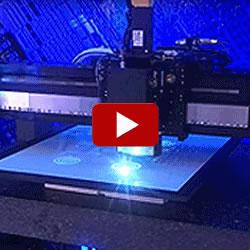 A traditional gantry system employs X-Y or X-Y-Z range of motion. Mounted on a base plate, usually granite, 2 parallel rails constitute the synchronized Y axis motion while the cross axis (bridge axis) provides the X motion. A vertical axis can be added on the bridge for the Z motion. A Split Bridge system can be less complex than a traditional gantry system because synchronization of the two parallel linear motors is not required. Both systems are used in industrial production, testing, and additive manufacturing.