The PI Group is investing $16 million in the expansion of its Eschbach factory in the southwest region of Germany.
In the course of 2024, the precision motion and automation specialist will gain ~6,6000 sq ft of production, lab, and office space, also adding 150 additional jobs. Altogether, these measures will triple the production capacity of its Eschbach site. Currently, the site in Eschbach is the PI Group's Competency Center for precision linear and rotary motion stages as well as custom high-precision automation solutions, including mechanics, drives, motion controllers and software. Applications include industrial automation, semiconductor manufacturing, photonics, and microscopy automation.

Automation to Increase Output of Automation Systems
The significant increase in production output will not only be achieved by the increased employee count but also by investing in automation technology to support the technicians in test and assembly, while advanced software and computer-controlled transport systems will optimize the material flow.
Clean Rooms for Optics and Semiconductor Customers
Additionally, PI is fulfilling demands from the Optics, Photonics and Semiconductor Industry with additional cleanrooms.
Significantly Reduced Carbon Footprint
The highest environmental sustainability requirements are met with a number of different measures: A photovoltaic system on the roof of the new building will generate renewable energy; the switch to district heating will reduce energy consumption, and the use of sustainable building materials and improved insulation will also contribute to a significantly reduced carbon footprint.
Record Investments in Growth
In the fiscal year 2021, PI increased sales by 27 percent to more than $250M. Markus Spanner, CEO of the PI Group, is optimistic "We also expect two-digit growth rates over the next few years". By the end of 2022, PI will have already invested more than $60M in the expansion of R&D and production capacities.
PI Americas
http://www.pi-usa.us | info@pi-usa.us | (508) 832-3456
Featured Product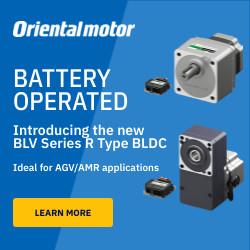 The BLV Series R Type brushless DC motor (BLDC motor) speed control system offers the design of motor and driver significantly reduced in size and weight, yet high-power, and contributes to the battery driven automation. The BLV Series R Type is compatible with the two interfaces of Modbus (RTU) and CANopen communication.