End of May, Piab acquired Joulin, a global leader of vacuum gripping solutions. Now, Piab has integrated three of Joulin's gripper ranges into its Kenos® portfolio, while the solutions for the heavy-duty industries continue to be marketed under the Joulin brand, whose experts further support these industries in defining the best system for each individual customer.
As the market for material handling solutions is growing rapidly, Joulin has a perfect strategic fit to the Piab business. Through the acquisition, Piab is evolving automation further by strengthening our position as a world leading automation company in our core industries and applications as well as taking a significant step into the raw wood industry, building on Joulin's 60 years of experience.

To further reinforce and expand the solutions business in heavy duty applications and the wood industry, these solutions consisting of large grippers and gantry cranes will continue to be marketed under the Joulin brand. The industry known experts will remain to design and build solutions matching individual customer needs and provide their top service.
At the same time the selected gripper ranges developed by Joulin, including the MiniGrip, the FlexiGrip and the Safe&Light are integrated into the Kenos® brand, which perfectly complements the existing Piab portfolio and further strengthens the support different needs of the customers.
The Kenos® MiniGrip (KMG) is suitable for the FMCG, food & beverage and automotive industries. It is a foam gripper that can be adapted to tight clearance applications in an End-of-Arm Tool (EOAT). Its foam surface offers the versatility to pick a variety of different objects without adjustment. In case of uneven layer heights KMG can be equipped with level compensators without needing to change the mounting device. Find out more about it by clicking here!
The Kenos® FlexiGrip (KFG) is suitable for food & beverage, automotive and construction industries. It is a vacuum foam gripper that can be used as a single gripper on robots as well as on cobots, or combined into an EOAT for use with industrial robots. With its foam surface it offers the flexibility to pick a variety of different products without adjustment. Its modular design provides the flexibility for fast and easy set-up in case of product changes as well as simple integration in to existing equipment. Learn more by clicking here!
The Kenos® Safe&Light (KSL) is suitable for use in applications such as packaging, warehousing, end-of-line production. Thanks to its special design of a carbon fiber structure holding a foam made body, it is extremely lightweight allowing to make maximum use of the robot or cobot payload. It is a robust and simple solution for a broad range of purposes, particularly for palletizing applications in rugged and dusty environments. Read on by clicking here!
As a vacuum technology leader Piab offers a wide range of solutions for various industries and applications, from suction cups and pumps to full EOAT and custom solutions. Whatever the needs and requirements on the application. Piab's experts support all customers in the right selection of gripping tools and act as a reliable partner from the beginning and beyond.
Featured Product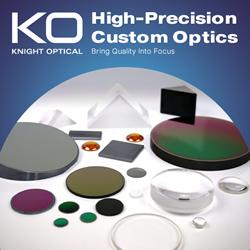 In the era of Industry 4.0, automation and machine learning drive the future. Knight Optical stands at the forefront, collaborating globally to supply precision optical components that power the robotics and automation sector. From UAVs, drones, and robotics to machine vision, LiDAR-driven car sensors, and renewable energy, our optics empower innovation. Optical components play an important role within the industry, including: Optical windows and domes safeguard systems in unmanned vehicles while preserving the field of view for cameras. Infrared lenses with aspheric surfaces elevate thermal imaging. Optical filters excel in machine vision, with colour glass, interference, and dichroic filters in our stock. Knight Optical provides stock components and custom solutions made to your exact specs. With every component undergoing rigorous metrology and QA checks before shipment, you are sure to experience true precision, innovation, and assurance.