Sponsor the only international conference with a dedicated focus on Armoured Vehicle Situational Awareness Systems
The 7th annual Future Armoured Vehicles Survivability Awareness 2023 conference will continue to break the mould and create a platform that will give you detailed knowledge and vision into the latest developments including the ever-increasing integration of artificial intelligence and artificial reality technology to improve crew's situational awareness, as well as the use of unmanned, optionally unmanned, robotic and remotely controlled systems to undertake tasks traditional done by human crews.

This is the ONLY conference of its kind, where you can hear, meet and learn from military speakers what their latest needs for current and future operations are to define future development projects. Market current solutions to and network with military procurement officials and technical specialists to generate commercial leads.
The conflict in Ukraine has reinforced the fundamental importance of logistics as the facilitator of tactical, operational, and strategic military capabilities. From ensuring the security of essential supplies to maintaining the frontline troops, this event will provide a forum to consider and respond the profound implications of the conflict on the region.
Benefits of Sponsoring the event:
• Educate the market on your company's capability and make the business case for how they can solve your potential customers' challenges and requirements
• Build your brand so your solutions are in the mind of prospective clients looking for solution providers to fulfil their needs
• Meet and network with active buyers and, more importantly, senior decision makers while there is still a chance to influence their purchase decision
• Generate new leads through meeting new prospects from a variety of new countries and programmes
Featured Product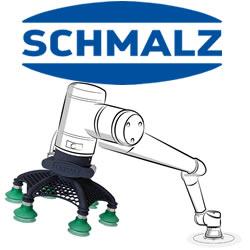 In order to interact with their environment and perform the tasks, lightweight robots, like all industrial robots, depend on tools - and in many cases these are vacuum grippers. These form the interface to the workpiece and are therefore a decisive part of the overall system. With their help, the robots can pick up, move, position, process, sort, stack and deposit a wide variety of goods and components. Vacuum gripping systems allow particularly gentle handling of workpieces, a compact and space-saving system design and gripping from above. Precisely because the object does not have to be gripped, the vacuum suction cupenables gapless positioning next to each other.