Production-level, end-to-end automation integration and deployment demos, from WMS to robotics to packout, will occur throughout the show
NORFOLK, Va., March 07, 2023 (GLOBE NEWSWIRE) -- SVT Robotics, a leading enterprise software provider for the rapid integration of industrial robotics, announced that it will operate live, end-to-end automation integrations and deployments at ProMat 2023 booth N7148, from March 20-23. The demos will allow attendees to interact directly with the SOFTBOT® Platform and connect numerous automation technologies.

Guests at the SVT booth will see a variety of integrations, including robotic picking using several leading WMS platforms, as well as IoT devices configured to trigger transport moves. The SOFTBOT Platform will fully integrate and deploy these warehouse automation technologies live, in just minutes - an experience no other company has previously offered at ProMat.
In addition to live integration demos, visitors to the SVT booth will have hands-on experience with SVT's groundbreaking online guide to automation technologies and service providers. This first-of-its-kind AppDirectory further accelerates the path to simplified automation, allowing guests to explore, learn, and qualify technology solutions in a single location.
"A significant challenge in the supply chain industry is knowing which automation technologies work with existing systems," said A.K. Schultz, CEO of SVT Robotics. "Using our one-stop AppDirectory, ProMat attendees and exhibitors can easily explore hundreds of use cases and qualify the technologies they're interested in. Our live demos will show how their company can accelerate the integration and deployment of those solutions faster than they ever thought possible."
SVT Robotics has continued to make significant advances with its SOFTBOT Platform, with several of its partners announcing collaborations with SVT, including Tecsys, Locus Robotics, and VERSES Technologies. The company is also the recipient of the 2022 Top Tech Startup award and the 2022 Top Software & Technology Providers award from Food Logistics and Supply & Demand Chain Executive.
About SVT Robotics
SVT Robotics is an enterprise software company that's revolutionizing robot deployments in the warehousing and manufacturing industries. SVT's tech-agnostic, low-code SOFTBOT Platform enables companies to integrate any robot, automation, IoT device, or human productivity tool for any task in just days or weeks. Learn more and join the revolution at svtrobotics.com. Follow us on Twitter, Facebook, and LinkedIn.
Featured Product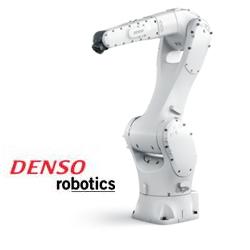 The new VMB series represent some of the newest members to our 6-axis family of robots. These high-performance, versatile units offer a longer arm reach and a higher load capacity than traditional models which make VMB an excellent solution for palletizing, packaging, and material handling. New features include greater air piping, valve and signal line options, as well as new programming options with state-of-the-art functions using our new WINCAPS Plus software. VMB offers an IP67 protection grade along with meeting ISO Class 5, which makes them suitable for electric parts, food manufacturing processes, and pharmaceutical and medical devices. With the addition of the new VMB large robots, all manufacturing processes can now be automated by DENSO Robotics.