Attendees are Invited to Booth #S603 to Learn About the Consultative Approach to Robotics and Automation Behind "Warehousing Answered"
Vanderlande, the global partner for future-proof warehouse solutions, today invited ProMat 2023 attendees to learn about the technologies, services and expertise relied on in many of the world's most advanced warehouses and distribution centers (DCs). Located in booth #S603, Vanderlande will be showcasing 'Warehousing Answered' solutions with demonstrations of a modular workstation leveraging an item-picking robot and thought-leadership keynotes presentations from Ken Hughes, one of the world's leading authorities on the behaviors of consumers, and innovations and trends shaping the industry.

"Dynamic retailers, e-commerce, and omnichannel businesses must address greater complexity in their materials handling and fulfillment operations than ever before to stay in front of constantly evolving consumer preferences," said Terry Verkuijlen, executive vice president of warehouse solutions at Vanderlande. "We believe that solving these challenges requires a thoughtful approach, spurred by asking the right questions and developing a deep understanding of each business' unique requirements, and exploring future scenarios of these requirements, in order to identify the right solutions to address their needs. As a result of this partnership mindset, our organization has deep experience uncovering the root source of pain points and developing future-proof, scalable systems for DCs. This holistic approach to next-generation warehousing is crucial for success."
At ProMat, Vanderlande will exhibit some of the transformative warehouse automation solutions that can be leveraged to address the industry's complexity, including:
FASTPICK: Vanderlande's advanced suite of goods-to-person picking solutions, which allows DCs to handle greater SKU volumes with enhanced throughput and increased order accuracy while lowering costs. Modular in design, FASTPICK includes Goods-to-Picker (GtP) 2.0 and ADAPTO.
GtP 2.0: The second generation of Vanderlande's modular workstation is designed to simplify the picking process. Leveraging the benefits of 1:1 picking and exceptional ergonomics, it improves pick performance while reducing errors and training. With a highly intuitive interface, employees can be trained to use this scalable solution in just minutes. This solution also improves efficiency and accuracy all while helping organizations mitigate scarce labor resources. At ProMat, Vanderlande will have a physical demo of this workstation integrated with a robotic piece-picking arm from RightHand Robotics showing how organizations are empowered to gain Goods-to-Robot capabilities in a highly configurable solution.
ADAPTO: A roaming shuttle-based automated storage and retrieval system (AS/RS), ADAPTO's advanced sorting and sequencing capabilities work with a variety of cartons, trays and totes. ADAPTO dramatically accelerates picking operations and enables operations to reduce the footprint of their facilities, while increasing storage densities and optimizing the movement of inventory. It offers unrivaled flexibility and scalability to help operations adapt to changing market dynamics.
Software: Attendees can also view digital demonstrations of the intelligent warehouse automation software that controls Vanderlande's highly integrated solutions, including the FASTPICK Goods-to-Picker. The company's comprehensive software stack is data-driven and features scalable capabilities that enhance the visibility and control of operations through productivity boosting adjustments and upgrades to equipment, processes and workflows. Notably, the software shortens the implementation period and allows easy and seamless upgrades, enabling businesses to stay nimble.
Additionally, attendees are also invited to attend interactive keynote addresses and fireside chat presentations by Ken Hughes, to gain insights into modern consumer values that shape the future of warehousing. Some of the topics Hughes will cover include how the shifting values of consumers will impact the warehouse solutions of tomorrow, how supply chains can harness consumer collaboration, how supply chain and delivery have become a core part of the consumer value proposition, and consumers' expectations around digital innovations, AI and robotics.
"Vanderlande has nearly 75 years of global history with advanced installations and we have continued to invest in the North American market for more than 25 years to provide the significant services and expertise needed to excel in the warehousing, parcel and airport industries," adds Verkuijlen. "Our capabilities, from proof-of-concept, to production, operation and maintenance, reflect our absolute commitment to ensure that our customers benefit from warehouses and DCs with breakthrough solutions that deliver unprecedented throughput, order accuracy and reliability."
Interested individuals are invited to stop by Vanderlande booth, #S603, view more information here, or can schedule time to meet with Vanderlande's materials handling experts by contacting: info.us@vanderlande.com. Featuring more than 1,000 supply chain technology and solutions providers under one roof, ProMat 2023 will be held March 20-23, 2023 at McCormick Place in Chicago.
###
About Vanderlande: Vanderlande is a market-leading, global partner for future-proof logistic process automation in the warehousing, airports and parcel sectors. Its extensive portfolio of integrated solutions - innovative systems, intelligent software and life-cycle services - results in the realization of fast, reliable and efficient automation technology.
The company focuses on the optimization of its customers' business processes and competitive positions. Through close cooperation, it strives for the improvement of their operational activities and the expansion of their logistical achievements.
Vanderlande's warehousing solutions are the first choice for many of the largest global e-commerce players and retailers in food, fashion and general merchandise across the globe. The company helps them to fulfil their promise of same-day delivery for billions of orders, with nine of the 15 largest global food retailers relying on its efficient and reliable solutions.
As a global partner for future-proof airport solutions, Vanderlande's market-leading baggage handling systems and related passenger solutions are capable of moving over 4 billion pieces of baggage around the world per year. These are active in more than 600 airports, including 12 of the world's top 20.
Vanderlande is also a leading supplier of process automation solutions that address the challenges in the parcel market. More than 52 million parcels are sorted by its systems every day, which have been installed for the world's leading parcel handling companies.
Established in 1949, Vanderlande has more than 9,000 employees, all committed to moving its customers' businesses forward at diverse locations on every continent. With a consistently increasing turnover of $2.6 billion euros, it has established a worldwide reputation over the past seven decades as a global partner for future-proof logistic process automation.
Vanderlande was acquired in 2017 by Toyota Industries Corporation, which will help it to continue its sustainable profitable growth. The two companies have a strong strategic match, and the synergies include cross-selling, product innovations and research and development.
For more information about Vanderlande, its products and technology, as well as career opportunities, please visit www.vanderlande.com.
Featured Product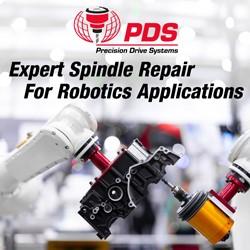 Precision components machined by CNC robot machining systems require compact, lightweight, and high-speed motorized spindles capable of delivering higher efficiency, performance, and reliability than those used in many other industries. That's why manufacturers of milling, cutting, trimming, grinding, polishing, and deburring trust Precision Drive Systems (PDS) to provide accurate and dependable spindle repair to perform to the most exacting standards.