The Helix 401, powered by Intel 12th Gen processing, becomes the smallest device in OnLogic's Helix Series of passively cooled, fanless industrial computers.
SOUTH BURLINGTON, VT (MARCH 14, 2023)

In response to the increasing demand for powerful computing that can be relied on in a wide range of even the most challenging installation environments, leading industrial computing manufacturer and solution provider, OnLogic (www.onlogic.com), has unveiled their Helix 401 fanless industrial computer. The compact device is designed for use in edge computing, industry 4.0, Internet of Things (IoT), and many other emerging applications and will make its public debut at Embedded World 2023.
"You may never see them, but industrial computers are everywhere, working diligently to power technology solutions of every shape and size. These systems need to be small and reliable while still being just as powerful as high-end desktop machines," says Mike Walsh, Senior Product Manager at OnLogic. "The Helix 401 balances size and performance while providing a wide range of configuration possibilities to help users tailor it to their specific application. It's small enough to fit in your hand, similar in size to Intel's popular NUC, but capable enough to drive advanced automation solutions and power the next great smart agriculture, building automation or energy management innovation."
The Helix 401 can be configured with a range of 12th Generation Intel® Core™ and Celeron® processors (formerly known as Alder Lake). Users can select the processor that best suits their application needs, from general purpose data handling to complex machine vision or AI workloads, aided by onboard Intel® Iris® Xe Graphics. Intel's unique hybrid architecture adapts to user needs by directing the right thread to the right core, helping to optimize performance.
Operating System options include Windows 11 Pro 64 Bit, Windows 10 IoT Enterprise, and Ubuntu 22.04. The Helix 401 is also Red Hat Certified for use with Red Hat Enterprise Linux 8.7, 9.1, and future versions.
OnLogic has implemented their Hardshell™ fanless technology to cool the Helix 401 passively, without the need for fans. The removal of the fan reduces points of failure, and eliminates virtually all noise, while allowing for a ventless enclosure design that helps protect internal components from airborne dust and other contaminants that can cause overheating or shorting.
To account for the varying devices it may need to interface with, connectivity on the Helix 401 includes 6 USB 3.2 Gen 2 ports (4 USB-A, 2 USB-C with Thunderbolt certification pending), dual 1Gb LAN ports, and dual DisplayPorts. Optional Digital Input/Output (DIO) as well as configurable COM or CAN bus connections, further bolster the system's communication capabilities.
Three M.2 slots provide additional expansion and customization, including available 4G and 5G-ready wireless for network redundancy or mobile installations. The system also features DDR5 memory for increased bandwidth and reduced latency, all while consuming less power than DDR4.
Helix 401 Key Features
12th Gen Intel Alder Lake Hybrid-Core Processing
i3-1220PE, i5-1250PE, i7-1270PE, Celeron 7305E
Intel® Iris® Xe Graphics
DDR5 Memory up to 64GB
Wi-Fi and Cellular connectivity options
Micro SIM slot
5G-ready via M.2
Onboard PTT & Optional Discrete TPM
Support for up to 4x displays
Dual LAN
0 to 50°C operating temperature
12 to 24VDC power input
Wall, DIN Rail and VESA mounting
The Helix 401 will make its debut at Embedded World in Nuremberg, Germany, starting March 14th at the OnLogic booth, #239 in Hall 3. More information about the Helix 401 is available by visiting www.onlogic.com/hx401. The OnLogic team can be contacted for assistance with configuration and ordering by emailing info@onlogic.com or calling +1 802 861 2300.
About OnLogic:
OnLogic is a global industrial computer manufacturer who designs highly-configurable, solution-focused computers engineered for reliability at the IoT edge. Their systems operate in the world's harshest environments, empowering customers to solve their most complex computing challenges, no matter their industry. Founded in 2003, the company has offices in the U.S., the Netherlands, Taiwan and Malaysia. OnLogic has helped more than 70,000 customers worldwide advance their ideas with computers that are designed to last, built to order and delivered in days. Learn more at www.onlogic.com or on YouTube at www.youtube.com/onlogic.
Featured Product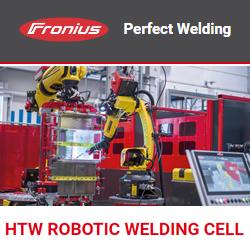 Modular, collaborative, and flexible: the "Handling-to-Welding" robotic welding cell joins parts of different geometries and materials. The task is carried out by two robots - the handling robot positions the workpieces, the second robot performs the welding. Depending on the cell configuration, lock gates are available for the inward and outward transport of parts. Furthermore, various positioners, a TCP measurement system, a torch cleaning system, a gripper station, and a contact tip change system are also possible.