Robotec.ai joins Open 3D Foundation, releases gems to extend Open 3D Engine for robotics simulation
The Open 3D Foundation (O3DF) today announced increased adoption in the robotics industry, which is collectively looking to Open 3D Engine (O3DE) for robotic simulations because of its modularity and core functions across content creation, physics and sensor simulations.

Robotec.ai, a software leader that develops solutions for autonomous, connected cars, is joining O3DF in its pursuit to build an open source future for robotic simulation. Robotec.ai joins more than 20 other O3DF members and represents the growing number of companies using O3DE for a variety of use cases, from gaming and robotics to film and high-fidelity simulations, among others. O3DF saw massive growth over the last 12 months with more than 500 active online participants, nearly 200 authors of code and almost eight million changes to lines. This represents the increasingly diverse O3DE community and use cases.
The modular O3DE architecture is made possible through Gems, plug-ins that enable users to customize and extend the engine's capabilities to address their unique applications, including games, simulations and many other 3D use cases. Robotec.ai has created two Gems to extend the engine's capabilities for robotics simulations.
The O3DE ROS2 Gem, created in collaboration with AWS Game Tech and Open Robotics, integrates O3DE with the Robotics Operating System (ROS), which is being used in NASA's VIPER mission to the moon. You can also learn more about the O3DE ROS2 Gem in this blog, and see it in action in these demos: fruit-picking robots simulation and robot vacuum simulation.
The O3DE RGL Gem powers high-performance Lidar simulation. You can read more about the O3DE RGL Gem in this blog.
"Traditional and commercial simulation engines are often insufficient for the complexity and scale of modern robotics applications," said Royal O'Brien, General Manager of Digital Media and Games at the Linux Foundation & Executive Director of the Open 3D Foundation. "Integrated with the modern Robotic Operating System (ROS), O3DE can be used in robotics applications without the need for wrappers or bridges and will accelerate robotic development and innovation. Robotec.ai is a clear leader advancing this work, and we are excited about their O3DE contributions."
As an O3DF member, Robotec.ai will continue to contribute to the advancement of O3DE through code contributions, bug fixes and feedback on new features. The company will also participate in new O3DE projects, joint research initiatives and the development and documenting of best practices. Robotec.ai will be an O3DE advocate by recommending the engine to customers and partners, driving adoption and standardization across the industry, and collaborating on training and tools that improve Robtec.ai products and customer experiences.
"Robotec.ai is fully embracing O3DE as the future simulation engine for robotics. Our O3DF membership represents this belief and our commitment to O3DE development and collaboration," said Adam Dąbrowski, VP of Robotics and Simulation, Robotec.ai. "Joining the Open 3D Foundation can help Robotec.ai stay at the forefront of the 3D content creation and distribution industry and gain valuable access to resources and support that drives growth and innovation."
For more information about Robotec.ai's work with O3DE, please listen to our discussion with Adam Dąbrowski in this episode of Tales from the 3rd Dimension. A panel on O3DE for robotics simulations will be hosted and live in the coming weeks.
About the Open 3D Engine
Open 3D Engine (O3DE) is the flagship project managed by the Open 3D Foundation (O3DF). The open-source project is a modular, cross-platform 3D engine built to power anything from AAA games to cinema-quality 3D worlds to high-fidelity simulations. The code is hosted on GitHub under the Apache 2.0 license. To learn more, please visit o3de.org and get involved and connect with the community on Discord.com/invite/o3de and GitHub.com/o3de.
About the Open 3D Foundation
Established in July 2021, the mission of the Open 3D Foundation (O3DF) is to make an open-source, fully-featured, high-fidelity, real-time 3D engine for building games and simulations, available to every industry. The Open 3D Foundation is home to the O3D Engine project. To learn more, please visit o3d.foundation.
About the Linux Foundation
The Linux Foundation is the world's leading home for collaboration on open source software, hardware, standards and data. Linux Foundation projects are critical to the world's infrastructure including Linux, Kubernetes, Node.js, ONAP, PyTorch, RISC-V, SPDX, OpenChain and more. The Linux Foundation focuses on leveraging best practices and addressing the needs of contributors, users, and solution providers to create sustainable models for open collaboration. For more information, please visit us at linuxfoundation.org.
The Linux Foundation has registered trademarks and uses trademarks. For a list of trademarks of The Linux Foundation, please see its trademark usage page: www.linuxfoundation.org/trademark-usage. Linux is a registered trademark of Linus Torvalds.
Featured Product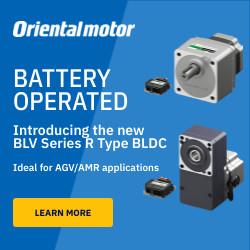 The BLV Series R Type brushless DC motor (BLDC motor) speed control system offers the design of motor and driver significantly reduced in size and weight, yet high-power, and contributes to the battery driven automation. The BLV Series R Type is compatible with the two interfaces of Modbus (RTU) and CANopen communication.