21 Commercial UAS Industry Leaders to Serve on 2023 Board
Portland, Maine - USA, March 15, 2023 - Organizers of Commercial UAV Expo, the world's leading commercial drone trade show and conference, have announced an impressive list of influential leaders in the drone industry who will be participating on the Advisory Board. Following record-breaking attendance at the 2022 event, the Advisory Board will guide programming, recommend speakers, and deliver critical insights about the commercial drone market. The event will take place September 5 - 7, 2023 at Ceasars Forum in Las Vegas.

"The Commercial UAV Advisory Board brings together industry leaders who have insights and expertise that are key to program development around commercial UAS technology, trends, and expansion," said Lee Corkhill, Group Director at Diversified Communications, organizer of the event. "Board members are at the top of their fields, and they are committed to delivering the high caliber education commercial UAV professionals have come to expect from Commercial UAV Expo. Following the monumental turnout last year, we are excited to have this Advisory Board in place to help guide the event and continue to deliver the best conference and expo in the UAS market."
Members of the Commercial UAV Expo Advisory Board include:
• Dallas Brooks, Wing
• Michael Cohen, Aerial Evolution Association of Canada
• Toni Drummond, Titan Aviation
• Lisa Ellman, Commercial Drone Alliance
• Dyan Gibbens, Trumbull Unmanned
• Shayne Gill, AASHTO (American Association of State Highway and Transportation Officials)
• James Grimsley, Choctaw Nation of Oklahoma
• Brendan Groves, Skydio
• Ashley Hanson, John Deere
• Thomas Haun, Turner Staffing Group
• Ethan Hunt, AT&T
• Grant Jordan, SkySafe
• Ted Kalnas, Los Angeles City Fire Department
• Eszter Kovács, DroneTalks
• Eileen Lockhart, Spright an Air Methods Company
• Rishap Malhotra, DroneUp
• Robert McCoy, Crown Castle
• Jennifer Pidgen, Sundance Media Group
• Christopher Todd, AIRT (DRONERESPONDERS)
• Gretchen West, Brayker Consulting Group
• Anne Zink, 5x5.ai
The Advisory Board will assist in developing conference programming comprised of both general sessions and vertical industry breakout sessions that delve into UAS integration and operation for specific vertical industries including construction, infrastructure & transportation; drone delivery; energy & utilities; forestry & agriculture; mining & aggregates; public safety & emergency service; security; and surveying & mapping. In addition to these specific vertical applications, the conference program will showcase the reality around how and where this technology is making a difference when it comes to BVLOS operations, what it means to quantify the ROI of a given program or investment, and how the potential that has long been associated with drone technology is finally being fulfilled at scale.
The 2022 edition of Commercial UAV Expo drew over 3,400 verified professionals and 232 exhibitors from throughout the world. Advisory Board members expressed their enthusiasm at being involved in the 2023 event and building on the momentum from last year.
"Commercial UAV Expo provides a one-stop experience for [Government] agencies to evaluate the latest drone technology and make educated purchasing decisions that benefit the communities they serve," said Christopher Todd, Executive Director of AIRT (Airborne International Response Team). "In a rapidly evolving technology landscape, public safety and government agencies need a one-stop source to evaluate the key players in the marketplace. Commercial UAV Expo in Las Vegas provides that experience."
"Anybody who really wants to understand where drones are being applied commercially should be at Commercial UAV Expo," said Thomas Haun, President at Turner Staffing Group. "Everything in the sessions is about what's happening on the ground now. I think that applicability makes the sessions at Commercial UAV Expo that much more valuable."
In addition to the sessions in the extensive conference program, Commercial UAV Expo offers a vendor neutral show floor with more exhibitors than any other commercial UAS event, featuring best-in-class solutions from manufacturers, suppliers and service providers that focus on commercial drone applications. Additional event features include vendor-delivered Exhibitor Showcases, DRONERESPONDERS Public Safety Summit, Exhibit Hall Theater Programming, networking receptions, and live Outdoor Flying Demonstrations. More than 300 Supporting Partners from six continents representing media, associations, portals and more, support this event.
Registration will open in May. Commercial drone professionals are encouraged to register early to secure discounted conference pricing, and to fill out the Attendee Inquiry form for event updates.
About Commercial UAV Expo
Commercial UAV Expo, presented by Commercial UAV News, is an international conference and expo exclusively focused on commercial UAS integration and operation covering industries including Construction; Drone Delivery; Energy & Utilities; Forestry & Agriculture; Infrastructure & Transportation; Mining & Aggregates; Public Safety & Emergency Services; Security; and Surveying & Mapping. It takes place September 5-7, 2023, at Caesars Forum, Las Vegas NV. For more information, visit https://www.expouav.com/.
Commercial UAV Expo is produced by Diversified Communications' technology portfolio which also includes Commercial UAV News; Geo Week, Geo Week Newsletter, 3D Technology Newsletter, AEC Innovations Newsletter, Geo Business (UK) and Digital Construction Week (UK).
For more information about exhibiting at Commercial UAV Expo, visit the Exhibitor Information page or contact Kat McDonald, Sales Manager, at kmcdonald@divcom.com or +1.207-842-5646. For attending information, visit https://www.expouav.com/ or email info@expouav.com.
Featured Product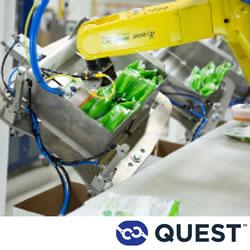 Quest is a leading manufacturer of industrial automation equipment focusing on robotics and vision-guidance. With expertise in the food, beverage, and dairy, Quest optimizes floor space for customers experiencing growing demand and helps improve their overall production line flexibility and efficiency. Quest offers application-specific software on their robotic products, including pick and place, case packing, and palletizing systems to simplify system setup and streamline configurability. Quest is a product brand of ProMach, a global leader in packaging line solutions.