GreyOrange to lead session about best practices for establishing fulfillment operations with automated solutions
Global leader in automated robotic fulfillment and inventory optimization software, GreyOrange Inc., is sharing automation strategies, live demonstrations and expert networking opportunities during ProMat 2023.

In addition to experiencing live demonstrations of GreyOrange's latest automated fulfillment solutions at the company's booth #S3353, ProMat attendees can engage with company leaders during the session, "Demystifying Fulfillment Automation."
The session will include next steps for leaders interested in automation investment and implementation - from use-case research and needs assessments to scale analyses. Attendees will be equipped with the tools needed to make informed decisions for their operations. The session will take place Mon., March 20, 3:15 p.m. CT in the Robotics Theater on the ProMat Show Floor.
Seminar attendees can expect to discuss:
Needed resources for intelligently investing in automation, including situational and operational analysis
Operations that are a good fit for automation implementation
Automation from all operational levels
"At GreyOrange, we've been solving challenges for the world's leading brands for more than a decade. Preparing for both upcoming obstacles and scaling needs keeps our customers agile and pivot-ready when circumstances change," said Samay Kohli, co-founder and CEO, GreyOrange. "GreyMatter, our multiagent orchestration platform, gives customers the freedom to choose the 'best-of-breed' fulfillment technology that fits their needs, no matter the vendor."
Recent research from Gartner® analyst Dwight Klappich and Interact Analysis analyst Rueben Scriven projects that within the next few years, about half of companies will use intralogistics robots from various vendors. A multiagent orchestration platform like GreyMatter will be needed to power the robotic fleet and assign balanced work in real-time according to fulfillment needs. The Gartner report also reveals that by 2026 more than half of companies using intralogistics robots will use a multiagent orchestration platform containing an open API (application programming interface) for seamless connection to control multi-vendor fleets. Based on the analysts' projections GreyOrange is currently equipping companies with solutions for future challenges.
ProMat will be held at McCormick Place in Chicago from March 20-23. Attendees represent the global supply chain and they attend the conference to witness cutting-edge innovation that solves current global challenges that also serve as clear-cut guides to pivot-ready and scalable solutions for future management and growth.
Featured Product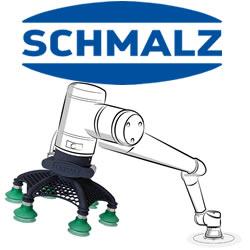 In order to interact with their environment and perform the tasks, lightweight robots, like all industrial robots, depend on tools - and in many cases these are vacuum grippers. These form the interface to the workpiece and are therefore a decisive part of the overall system. With their help, the robots can pick up, move, position, process, sort, stack and deposit a wide variety of goods and components. Vacuum gripping systems allow particularly gentle handling of workpieces, a compact and space-saving system design and gripping from above. Precisely because the object does not have to be gripped, the vacuum suction cupenables gapless positioning next to each other.