Booth to highlight solutions ideal for battery and battery pack welding applications
MONROVIA, CA - AMADA WELD TECH, INC., a leading manufacturer of welding, marking, cutting, sealing, and bonding equipment and systems, will be promoting their EV and battery welding capabilities at the International Battery Seminar March 20-23, 2023 at the Loews Pacific Resort in Orlando, FL. The event will also be accessible virtually. Visit booth #315 to explore different battery welding applications and get a hands-on demonstration of some our industry-leading products. On display will be the UB-4000A Linear DC Spot Welder paired with the THIN-LINEⓇ TL-188B-EZ High Force Pneumatic Weld Head. Two resistance weld monitors will also be on display: the MM-400B Desktop Resistance Weld Monitor and the MM-410B Handheld Resistance Weld Monitor.

The UB-4000A is a 200-4000 Amp linear DC control that features four feedback modes, precise waveform control, and fast rise time. Weld energy may be programmed in current, voltage, power, or V-A in increments as short as 0.1 milliseconds. The power supply will be paired with the TL-188B-EZ pneumatic weld head, which operates at speeds exceeding 3600 welds per hour. This precise, low-inertia, force-fired weld head has a narrow vertical profile that exerts 5 to 100 lb (22-445 N) of force.
Two resistance weld monitors will be prominently featured at the booth: the desktop model MM-400B and the portable, handheld model MM-410B. Both products enable operators to monitor and manage key welding variables that affect weld quality including current, voltage, time, and force. Both units support a range of welding resistance technologies, including AC, DC inverter, AC inverter, transistor, and capacitive discharge. Users can easily navigate the features of each product via an intuitive user interface and touch panel display.
To learn more or to attend the show virtually, visit the International Battery Seminar's website here: https://www.internationalbatteryseminar.com/
###
Featured Product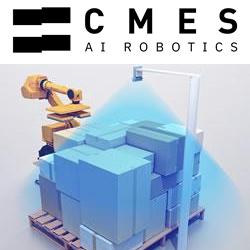 Powered by AI, CMES Robotics enables 3D vision for factory robots. CMES AI vision software enables robots to recognize unstructured, flexible, or deformed objects, pick them up, and loading and unloading. CMES Vision software has been deployed worldwide for random palletization and depalletization along with void filling applications. CMES Robotics automates your warehouse, logistics, and supply chain. For more information, please visit: cmesrobotics.com or email info@cmesrobotics.com.